Students are taking more advantage of innovations in the online marketplace to help ease out-of-pocket educational costs, according to new data from the U.S. Public Research Group.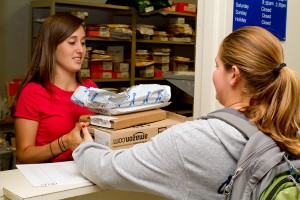 The research group surveyed 1,905 undergraduates and seven out of 10 students reported they had not purchased one or more textbooks because the cost was too high. Rentals, e-books and e-readers are gaining popularity as cost-reducing alternatives to traditional textbooks.
Rick Watson, director of the Ithaca College bookstore, said over the past few years textbook prices have been rising by at least 5 percent a year, and textbook sales at the bookstore have been declining consistently for three or four years.
"This semester, we're down about 30 percent textbook sales within the store," he said.
Sophomore Mary Kate Fain said she never purchases brand new print textbooks because they are too expensive.
"I like to get them as cheap as I can," she said. "I don't have a lot of money, but I mean, we're college students, who does?"
Junior Will Rocheleau used the Kindle version of a textbook for a class freshman year because of the convenience of having a lighter alternative to a heavy book.
"I would have [the e-textbook] on the device," he said. "It was the convenience of having that space so you don't have to carry it."
But he said that his foremost concern with the Kindle was navigating to his assigned reading.
"The Kindle doesn't necessarily have page numbers because of the way the text cam adjusts," Rocheleau said. "It was really hard to find what I'm supposed to read."
While the college bookstore does offer digital textbooks, sales have been minimal, Watson said.
"Some colleges have experienced big growth in digital, but it all depends," he said.
Last fall, the bookstore started offering textbook rentals through its website and this semester, rentals are up 81 percent since then, Watson said.
Watson said the main advantage of renting textbooks is the cheap upfront cost.
Freshman Leonard Slutsky rented some of his textbooks from Chegg.com.
"I was a little worried that the quality wasn't going to be good, but it was actually pretty good, and I saved a few hundred dollars."
In the public interest group survey, 93 percent of students reported that they've purchased at least one book whose price was affected by the textbook publishing industry's practices. For instance, publishers will release new editions and custom editions and offer "bundling," the practice of packaging textbooks with CDs and passcodes.
Slutsky said he was upset several of his classes required custom textbooks, which were only available through the college bookstore.
"You can't buy them used or rent them because they change every once in a while," Slutsky said. "I guess they're pretty hard to sell back. If the professor doesn't use the same book the next semester, you're out of luck."