For Jenna Troiano, music is truly all in the family.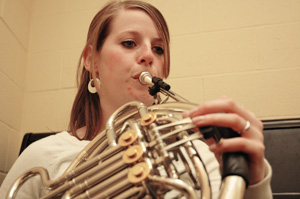 Growing up in Lake Grove, Long Island, N.Y., she was exposed to music through her father's involvement as a band teacher and began playing French horn in 4th grade. Her mother played clarinet in high school and both of her younger brothers play instruments. Dan, a freshman at the college, is a tuba music education major, and their 15-year-old brother plays euphonium and arranges music, she said. Troiano said her desire to teach music was just an instinct.
"I guess I just always knew that that was what I was destined to be," she said.
Troiano, a music education and French horn performance major, said her band director, Tyler Ogilvie '05, influenced her decision to come to the college. Troiano heard of their positive experiences with the horn faculty and became interested in the college as early as her freshman year in high school.
"I had to do a college project for one of my classes in ninth grade and I picked Ithaca because my private horn teacher's daughter was a student there at the time," Troiano said.
Since coming to the college, Troiano has joined Mu Phi Epsilon, the music fraternity, and is a member of Pi Kappa Lambda, the music honors society. She has played two years in the exclusive wind ensemble and symphony orchestra. She is also a member of the Texas Music Educators Association and the Collegiate National Association for Music Education (CMENC), and will be inducted into Phi Kappa Phi on April 27.
Outside the music world, Troiano sits on the President's Host Committee and the Senior Class Gift Committee.
Beth Peterson, associate professor of instrumental music education, has been Troiano's academic adviser for four years. Peterson said Troiano often produces model work.
"She'll turn in a notebook of materials for the end of the class and it's the kind of notebook that I'll ask if I can keep it and share with other students in the future," Peterson said.
Peterson said she also appreciates Troiano's initiative and said she is a go-getter.
"She's always been … the kind of student who's going to make things happen," Peterson said. "If she sets a goal, she goes after it. She doesn't wait and let things happen to her."
Alex Shuhan, associate professor of music performance, said he is impressed with Troiano's sense of curiosity and said she has always been an inquisitive student.
"She comes in every week and she's always got a hundred thousand questions to ask about this or about that," Shuhan said.
Troiano said one of her greatest accomplishments at the college was playing well at former orchestra director Jeff Grogan's last concert in 2005.
"It was just a really powerful moment," Troiano said. "We knew he was leaving and we wanted to perform really well for him and for ourselves, and it was probably one of the best concerts I've ever played."
This year, Jenna's brother Dan joined her at the college. The Troiano siblings agree attending college together has made them closer.
"We mostly hung out on weekends just to catch up with each other and to see how things were going, and to just bring that family bond together that we're missing since we're not at home," Dan Troiano said.
Jenna Troiano said her education has prepared her well for a career in teaching.
"I know that I'm really prepared for a job," she said. "I don't have any doubt that I will be successful as a first-year teacher."
Troiano's senior recital is at 9 p.m. Saturday in Ford Hall. She will be playing the Strauss Horn Concerto No. 1, Reinecke Notturno, Buyanovsky Espana and Hindemith Sonata.
After graduation, Troiano plans to teach middle school band in Austin, Texas. She said she chose Austin because band programs in Texas are more intense than in other parts of the country.
"I want to go where all the big bands are," she said.