The Ithaca College Office of Public Safety and Emergency Management sent out an alert to the campus community that local law enforcement is still looking for a suspect who was involved in a trespassing incident on property across Route 96B from the college.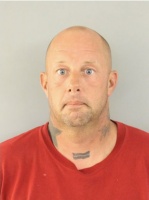 This alert, sent out at 9:40 p.m., follows an alert sent out earlier today that said authorities were searching for a suspect who trespassed on property across Route 96B from the college campus. The first alert stated the suspect may be armed, but the most recent alert said the two weapons they believed the suspect to be carrying have been recovered. The suspect has not been seen on campus, the alert said.
The suspect is Jason Fisher, a 42-year-old bald, white male, approximately six feet tall and 190 pounds. The alert said there is currently no known threat to the college community but that students, faculty and staff should stay alert.
Ithaca College Public Safety will be patrolling the campus and its perimeter, including the parking lot across Route 96B, the alert said. The alert encouraged anyone who has information on his whereabouts to contact the Tompkins County Sheriff's Office at 607-272-2444 or on the TipLine at 607-266-5420.