Now that freshman Anna Talarico is finally settled into her second semester at Ithaca College, the remnants of the eight months she spent perfecting her Spanish in Ecuador and the Galapagos Islands have begun to fade — literally.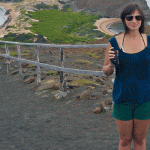 "I had a beautiful tan," Talarico said. "And now I'm white as snow."
Talarico said she keeps torturing herself by peeking at the weather forecast in Ecuador, where the temperature rarely drops below 70 degrees. But no amount of snow has been able to smother the memories Talarico still manages to vividly recount between outbursts of laughter and sighs. Like many of the students who accepted the college's $10,000 incentive to take a gap year before enrolling, Talarico said she will never be the same.
Eric Maguire, vice president of enrollment and communication at the college, said the one-time gap year incentive was offered to non-international students who applied to the college for the 2009-10 academic year to help ease the problems caused by over-enrollment. The college deducted the $10,000 from the student's tuition under the condition that they returned to the college in Fall 2010 with less than nine credit hours from another institution. The tuition break is applied over the course of the student's time at the college.
Thirty-two students opted to take the gap year incentive, Maguire said. Of the 32, 14 didn't return to the college while the other 18 enrolled this fall — each with $10,000 to put toward their tuition and ready to begin adjusting to college life.
At the time, Maguire said the college had already discussed incentives for upperclassmen to move off campus and was beginning to finalize plans to build Terrace 13 but still expected to have difficulties housing students who wouldn't be accommodated by those options. Maguire said the college also considered housing students in a nearby hotel before they came up with the gap year incentive.
"The one possibility that was tossed out there was the possibility of using some local hotel space, which people did not view as ideal but in a pinch might have to suffice," he said. "But then we introduced this other idea."
Maguire said the college decided to offer students an incentive to defer enrollment rather than spend money on hotel space. Since some students choose to take a gap year on their own, Maguire said the college looked at the gap year as a way to support students who already made this decision.
"Instead of investing in hotels, why don't we invest in students?" he said. "It reduces costs for students, it helps them with affording their college education, and, for the students who would select it, which we assumed would be relatively few, it would be a good fit. It would be a win-win, essentially."
Though he hopes the college does not experience similar problems with over-enrollment in coming years, Maguire said he considers the incentive a success. He said he does not think providing incentives for deferment cost the college money, at least compared to the projected cost of housing students in hotels. Maguire said the initiative was a financial wash for the college.
"I saw it as more of a one-year problem-solving initiative," he said. "If we did have problems with over-enrollment again, from my perspective, this would be something to consider."
For freshman Liz Levine, the gap year was a chance to escape her mundane high school routine.
"I felt like I had senioritis since sixth grade," Levine said. "It was inevitable that I was going to have to take time off because I was going to break, so I was glad that I was able to do that before college and not collapse in the middle of college."
Within moments of receiving a letter from the college explaining the gap year option, Levine said she was already planning her trip. In two weeks, she said plans for service trips to Peru and Thailand were in place, but no amount of planning could have prepared her for the moment her flight landed in Lima, Peru. She was all alone for the first time in a foreign country, and there was no turning back.
"I can't remember getting off that plane," she said. "It was kind of like jumping off a cliff. I kind of blacked it out."
For the next four months, Levine spent time volunteering at an orphanage and teaching English in the mountains before returning home for five weeks and flying to Thailand, where she spent two months in an isolated refugee camp surrounded by mountains and rice fields. Levine said she feels stronger and more prepared to learn after having spent a total of seven months abroad.
"A lot of people, their first year or their first semester, have a lot of adjusting to do," she said. "I did that adjustment the really hard way in other countries."
Talarico, Levine's roommate, said their relationship is strengthened by the changes they underwent during their time abroad, even though these changes are sometimes hard to describe or pinpoint.
"Change is a weird thing." she said. "It's not like you wake up one morning and are like, 'Oh, wow! Look at that, I've changed.'"
Unlike Levine and Talarico, freshmen Cynamen Horn said she took the year off to get a job and save money for college. Horn, who had never left her California home before coming to the college, said her hesitation to leave her single mother behind contributed to her decision. It was ultimately her job at Target that Horn said compelled her to pursue her goal of going away for college.
"It gave me the insight that I didn't want to get stuck where I lived because they were all stuck," she said.
Levine said she was surprised more students didn't take the gap year, but Maguire said the college expected 20 to 50 students to defer their enrollment. In case more students showed interest, he said the college set a cap number of 100 for the incentive.
Levine said she feels like she won the lottery by being given the opportunity to take a year off from school to travel. She said she would recommend the experience to anyone, but with caution.
"There's really no way you can guess what you're getting yourself into," she said. "I've heard so many people say that they don't think they can travel or live abroad or they're afraid even to study abroad, but I was 18 and scared out of my mind and I had no idea what I was doing. It's not like it takes a special person to do it."