When senior Jake Tenenbaum was in third grade, his teacher advised his parents to "slow your kid down." And for the next 13 years, his parents wished he would.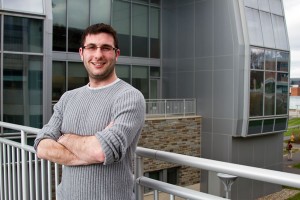 But no matter what his parents said, he did not quit. Tenenbaum played baseball and bowled through middle school despite his demanding academic life. He even refused to quit his high school job at a local Chinese restaurant.
Now a senior majoring in business with a concentration in international business and minors in legal studies and integrated marketing communications, the chances of Tenenbaum slowing down are still close to none.
"There is so much to do that I can't help but want to be a part of it all," he said.
Tenenbaum said he was drawn to Ithaca College because of the opportunities for student involvement. Graduating high school with 36 credits under his belt, Tenenbaum wasted no time getting involved his freshman year. He was a general member of the college's American Marketing Association and Business Link, secretary of the college's chapter of Up 'til Dawn and a dean's host for the School of Business.
Looking to gain further leadership experience, Tenenbaum applied to be the freshman liaison for AMA and a position on the dean's host executive board. He was denied for both.
"People always say to me, 'You were handed everything,'" he said. "But I actually got rejected from most things."
But Tenenbaum is not one to take no for an answer. During his sophomore year, he reapplied for the
executive board of AMA and for dean's host, securing both. He also became a business school senator, president's host, peer adviser for the business school and student administrative assistant to the school's dean.
As the student administrative assistant to the dean, Tenenbaum worked with Maria Fiorille, assistant to the dean. Fiorille helped train Tenenbaum with finance, an area of business he said he wasn't too proficient in. But with the proper training and the right attitude, Fiorille said, his financial skills developed.
"He will definitely be able to succeed in whatever he does because he has touched so many different areas," she said.
While working in the dean's suite spring semester of his sophomore year, Tenenbaum worked closely with Catrina Decker, academic services coordinator in the School of Business. She said that many of their projects overlapped, which provided plenty of time for collaboration.
"We work very well together," Decker said. "I always go to Jake for his feedback and honesty. He always has an answer or idea."
Between the fall and spring of his sophomore year, Tenenbaum interned with the National Advertising Review Council, and last summer, Tenenbaum interned with alumnus Chris Burch '76 at J. Christopher
Capital. He helped with launching different lines with designers such as Tori Burch and Monika Chiang and new companies like Electric Love Army by Kelly Cutrone. Tenenbaum said he hopes to begin his career with Chris Burch this summer.
Tenenbaum is currently the co-president of the college's chapter of the American Marketing Association. He said that throughout his time with AMA, he has helped transform the "typical marketing club's hierarchy" of positions. Instead of having traditional positions, the club has divided the power differently.
"We have VP of design, VP of communications, VP of finance and things that the international chapter has never even seen," he said. "They were very impressed."
They were impressed enough that the college's AMA chapter at the college was awarded a bronze award at the International
Conference for Top 20 Chapters.
Senior Jayme Bednarski said she admires the work ethic of her co-president and close friend.
"He is probably one of the most involved people on this campus," she said. "It's not possible, you just can't be that involved. I don't know how he does it."
A self-proclaimed workaholic, Tenenbaum said he is more than comfortable with his tightly packed schedule because he has the opportunity to work with people who motivate him.
"The truth of the matter is I'm a very active person, and I love staying active," he said. "I love being able to spend time with the people I care about. I'm inspired by them."