For the third consecutive week, a team of Ithaca College business students holds first place in an ongoing competition using hypothetical stock portfolios to garner strong returns in a tough economy.
The Adirondack Cup event began Oct. 1 and runs until April 6. The team whose portfolio yields the greatest profit will win both the namesake trophy for its school and the right to present its investment thesis to Greg Roeder and Matt Reiner, co-managers of Adirondack Research and Management Inc., the company sponsoring the competition.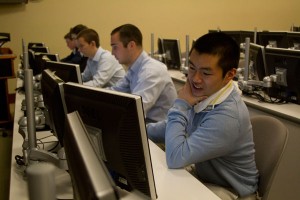 The Adirondack Cup is a new program that began in 2011 that allows student teams from participating schools in New York and the New England area to create a portfolio of small cap companies, which are organizations with market values between $50 million and $3 billion. Each of the five stocks selected for the portfolio must be from a different sector, such as financial services, technology, health care and others, and the entire portfolio must be valued at $1 million.
Nearly 20 other colleges and universities are competing for the Cup, including Binghamton University, Clarkson University, the University of Buffalo, the College of Brockport and Hofstra University.
Senior Michael Severo, an executive board member of the IC Investment Club and president of Core Trading Consultants, a student-run mutual fund on campus, serves as the college's team leader.
Steve Gonick '85, executive vice president of ARM, said he was inspired to create the competition in 2009 after he was contacted by a group of IC students seeking internships and career advice.
"We decided to take them on with students from other schools as part of a program where students could do helpful projects that would also help them build their résumés and lists of corporate contacts," he said.
Gonick said at one point Roeder suggested making the company's internship program a competition between universities in the region.
"It was a natural extension of our internship program," he said. "We sent the invitations out over that summer and were thrilled to have 18 different programs express interest in competing."
Senior team member Aaron Heltsley said the team was inspired to follow the auto industry after the market yielded positive returns.
"We looked at companies that were in a variety of sectors but would all benefit from a boom in Detroit or automakers in general," he said.
Though teams in the competition are able to change stocks in their portfolio up to two times, Heltsley said the team has opted not to switch up its stocks.
"There is still a lot of upside potential there for us," he said. "If this is where manufacturing levels off at, the country is going to have a lot of problems in the future."
Junior team member Spencer Grossman said the greatest lesson he learned from the competition is the need for teamwork when working with something as complex as the stock market.
"A lot of people want to go into finance alone, be a big bull and reap profits," he said. "A competition like this shows you can still be successful without disregarding the value of others."
Severo said though stocks are volatile and can often change at a moment's notice, a good analyst can still find ways to beat the market.
"In investing, you can be right for the wrong reasons, or right today and wrong tomorrow," he said. "That being said, there are always opportunities to use a disciplined approach and tip the odds in your favor."