Faster than a speeding bullet, more powerful than a locomotive, stronger than a crashing tidal wave — superheroes are blasting into town.
The Comic Book Club of Ithaca will be holding its annual comic book convention — called Ithacon 35 this year in recognition of its 35th consecutive year running — Saturday at the Women's Community Building downtown.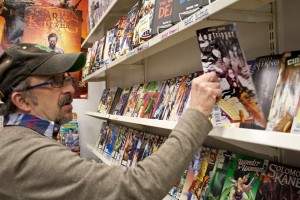 The event draws about 200 fans every year, who come to buy comic books from the 10 distributors who will be at this year's show as well as see artists, writers and editors involved in the industry. This year the guest list includes Marvel Comics editor Steve Wacker, storyboard artist for "Wolverine" and "The X-Men" Mike Borkowski, and Marvel Comics writer Roger Stern.
Carmela Merlo, co-coordinator of the convention, said Ithacon always promises to be a quaint but exciting event.
"It's relaxed but busy," she said. "It's busy in that there is a lot of interaction going on — fans chatting with guests, catching up with their work — but it's relaxed in that it's a small, comfortable, cozy little show."
While a lot of comic book conventions in cities have strayed from comics to include video games and movies, Ithacon has remained strictly a comic book show.
Bill Turner, one of the founders of the club and co-coordinator of this year's event, said the club has never been interested in trying to include other media to draw more people to the show.
"It's really a small, fan-oriented show that we've been doing," he said. "We never really tried to grow a lot, and we never were really interested in expanding beyond comics. We have just always been a comic book club. That's just what we're interested in."
Ithacon 35 is also a chance for young artists to get an introduction to the industry.
Frank Cammuso, creator, writer and artist for the "Max Hamm: Fairy Tale Detective" series and "Knights of the Lunch Table," is returning this year as a guest, but this is not his first time coming to the convention. He first came to Ithacon as a fan when he was 8 years old.
Cammuso said he loved comics before he came to the show, but Ithacon introduced him to the idea of pursuing comics as a career.
"I was blown away to actually meet the artists and writers and see their work," he said. "When you can see the guy sitting there drawing, you go, 'Wow, someone's doing that.' Then something goes off in your head, and you say, 'Well, I could do that.' It's a vehicle for the possibilities."
Cammuso said he has seen a change in the convention's fans over the years.
"In the past, it was more of a stereotypical crowd, but I've noticed more and more it's all different people," he said. "The more graphic novels are getting out there, the more people are getting interested in comics. You see a lot more families now. You see a lot more women. It's not the small geek living in their mom's basement."
A place where multiple editors and artists gather in one room, Ithacon 35 is also a chance for young artists to show their work to professionals and receive feedback. Storn Cook, a local comic artist who has attended the event as a guest for the past three years, showed his portfolio for the first time to Jim Shooter, former editor-in-chief of Marvel Comics, at Ithacon about 30 years ago.
"He ripped it to shreds," he said. "I needed to hear the harsh truths."
Cook said he tries to offer aspiring artists the same opportunity for constructive criticism.
"[Artists] can be an incredible resource for you to get better because they will see things with a critical eye that your mom or dad are not going to be able to see," he said. "[Becoming good] is not going to happen overnight. This can take a while, and that's OK. I tell kids that."
Cook said Ithacon typically has a different feel than a lot of larger comic book conventions because people can enjoy their hobby, rather than be exhausted by the show.
"You get to spend time with your peers in a lot more relaxed atmosphere," he said. "When you go to the big conventions, it's about selling yourself all the time. When you go to the smaller conventions, you can relax."
Tim Gray, one of the founders of the club and owner of Comics for Collectors on North Aurora Street, said having conventions like Ithacon 35 is also a chance to educate others that comics are more than just entertainment for children.
"[We want] the media to come in and see that comics are more than just silly animals on a piece of paper," he said. "It's a little more sophisticated than that. We have had that struggle for many years to convince people that it's pop culture, but it has some fine art too."