Ithaca College's chapter of Spread the Word to End the Word, a worldwide organization dedicated to raising awareness of the misuse of the word "retarded," is kicking off the year with their own rally.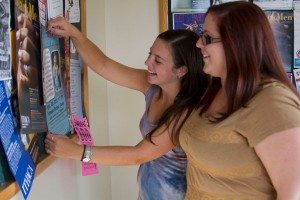 The group was officially launched at the 2009 Winter Special Olympics and gained notoriety after joining with Best Buddies International and Teen Truth Live, two national anti-bullying groups. More than 200,000 people have already pledged  to stop their casual use of the word.
The college community will gather from 4 to 7 p.m. Tuesday on the Fitness Center quad for its own rally. The event was organized by seniors Jessie Kanowitz and Sarah Brenner, who brought a chapter of the organization to the college after  personal experiences working with people with disabilities.
Kanowitz was inspired to raise further awareness after working in the Youth Bureau in Recreation Support Services.
"I work with people with disabilities and I don't want one of them to be called this word and be subjected to the hurtful consequences it has," she said. "Ever since we heard of the organization, we both have been very passionate about this movement."
Last spring, Kanowitz and Brenner had a Spread the Word to End the Word pledge table at an event for Active Minds, a group at the college that supports mental health awareness and education. They were surprised by the amount of interest people showed in their display and decided to take the awareness movement even further.
"We turned to each other and said, 'This needs to be bigger,'" Brenner said.
They asked the college's Department of Recreation and Leisure Studies to sponsor an event so they could further inform people about the mission to stop the use of what they see as a hateful word.
Junior Alyana Pomerantz, one of the volunteers at the event, explained what sets the "R-word" apart from other derogatory terms.
"The R-word is so harmful because it's a replacement word," she said. "People use it for calling things stupid, but you're not realizing that you are talking about an entire population of people who cannot control their condition."
Brenner said the word is hurtful because the targeted people are often defenseless.
"If you went up to one of my best friends who is a gay man and called him a faggot, he would turn around and stand up for himself and say what was on his mind," she said. "Some people might not understand what is happening or be able to stand up for themselves."
Kanowitz said the accurate way to refer to a person with disabilities has been changed.
"Mental retardation is not a term, it's just a hurtful word," she said. "People use it inaccurately. In fact, there is no accurate way to use it anymore."
In Nov. 2009, a bill called Rosa's Law was introduced to the U.S. Senate and signed into federal law in Oct. 2010. Rosa's Law required the removal of the term "mental retardation" from federal health, education and labor policy, instead replacing it with the term "intellectual disability" and also changes references to "a mentally retarded individual" to "an individual with intellectual disability."
The Spread the Word to End the Word event aims to inform the college community of these changes to federal law. There will also be individuals — with and without intellectual disabilities — telling their stories about the effect the term has had on their lives.
The event's highlights include free stickers, T-shirt and bracelet-making, a free barbecue and an Ithacappella concert featuring local performer John Simon. WICB will also play music, and different games and activities will be provided for children.
Brenner said though progress has been made in the battle against the word, there are still many steps that need to be taken, particularly conscientious use of our vocabulary.
"It amazes me how many people I still hear using the 'R-word' at Ithaca College," she said. "You'd think we would be mature and adult enough to realize what's being said at the college, but that's not the case. We want to change this."
To learn more about Spread the Word to End the Word or to make an online pledge, visit www.r-word.org.