To his peers and professors, junior Gregory Mantone was a quiet student with a smile on in the hallways, talent in the classroom and a helping hand when needed.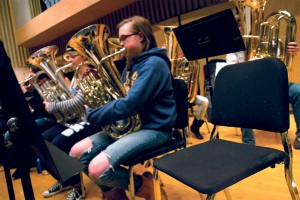 But Mantone's sudden death in a car accident early Saturday morning has left the School of Music and Ithaca College mourning and reflecting on his life.
He was traveling north along highway I-81 through Susquehanna County, Pa., from New York City, when his vehicle went off the right side of the highway and struck a rock embankment around 2 a.m. Saturday, according to a Pennsylvania State Police report. The vehicle came to rest on the driver's side and became engulfed in flames, the report said. Mantone was pronounced dead at the scene. He was 20 years old.
Anthony Conarton, the Susquehanna County coroner, said an autopsy performed Sunday determined the cause of death to be smoke inhalation.
Students, faculty and staff assembled Sunday night in Muller Chapel to share their thoughts and memories of Mantone, recalling a passionate musician and caring friend.
Attendees told stories about his kindness and reserved sense of humor.
"He's just the most genuinely, purely nice guy I've ever met," sophomore Katherine Pfeiffer said.
Junior Riley Goodemote said Mantone had a sunny disposition and was always upbeat despite the stress of schoolwork.
"I never saw him with a cold look on his face, not once," he said.
The gathering was organized by administrators in the School of Music and was led by Father Carsten Martensen, the college's Catholic chaplain. More than 100 members of the campus community filled the chapel and stretched into the outside atrium.
Mantone, a music education major, played the euphonium in the Symphonic Band, for which he was a section leader, and sang in the college chorus.
Mantone was raised in Mount Sinai, N.Y., a hamlet on Long Island, where he graduated from Mount Sinai High School.
Gregory Woodward, dean of the School of Music, said Mantone also had a love of musical theater and was returning from seeing "Follies," one of his favorite Broadway musicals, Saturday morning. Woodward said the music school community came together in support of each other.
"The kids seemed affected, somber, reflective, but also concerned by each others' health," he said.
Aaron Tindall, assistant professor of tuba and euphonium and Mantone's teacher this semester,  said Mantone's already great technique had improved in the past few months, putting him on track to achieving his goals. Tindall said when he first arrived at the college two years ago he asked students what they wanted to do with their lives.
"I remember specifically, I got to Greg and Greg said 'I want to be the best music educator that I can be and the best euphonium player that I can be,'" he said.
Tindall said losing a student is particularly difficult for music students because of the tight-knit community in the school.
Junior Nicole Kukieza, a music performance and education major and another student of Tindall's, said she knew Mantone since her freshman year.
"It didn't really hit a lot of people until band and chorus on Monday when Greg didn't go," she said. "It was kind of real then."
Beth Peterson, conductor of the Symphonic Band, said the first rehearsal without Mantone turned difficult when playing the "Hymn of Brotherhood," a slow ballad, which a guest conductor will lead in a performance today.
"I started to conduct it first just to warm everyone up, and I just started crying and then everybody was crying. It was pretty emotional on Monday," she said.
Since Monday, many performances within the music school have been dedicated to Mantone.
Bill Tiberio, director of the Jazz Lab ensemble concert, dedicated the Monday performance to him.
The Student Government Association held a jazz night in Mantone's memory Tuesday at TC Lounge.
Junior Edward Odio, SGA senator for the School of Music who organized the event, had a class with Mantone the day before he died, he said, and he felt strongly that Mantone should be honored.
"It's still hard for me to think about it because it could have been anyone," he said. "I could have been in that situation, so I wanted to dedicate this night for him."
Junior Scott Card, a jazz studies major, said though he hadn't known Mantone by name, he remembered him after finding his photo online.
"Like everyone who heard, I looked him up on Facebook," he said. "I recognized his face, and I just knew him as the guy I always walked by in the hallway who was always smiling and laughing at people. He was always in a good mood every time I saw him."
The symphonic band will play an arrangement of "Amazing Grace" with one verse played only by the euphonium section during its performance today. The college chorus also plans to incorporate "O Magnum Mysterium", one of Mantone's favorite pieces, into its performance Sunday. The School of Music will host a concert in Mantone's honor planned tentatively for Jan. 31.
Linda Mantone, Gregory's mother, said she and her husband, Stephen, have found some consolation in the support from the college community.
"It does comfort us to know how many other people also love him," she said. "We've had such wonderful comments from people at Ithaca. Students and faculty and administration have been really wonderful."
Woodward said the tragic event has helped students demonstrate support for one another usually not offered in normal, everyday life.
"It's always with these cases, sort of a mixture of good and bad which ends up being a kind of bittersweet kind of feeling," he said.
The family has requested that, in lieu of flowers, memorial contributions may be made to Broadway Cares/Equity Fights AIDS at 165 West 46th Street, Suite 1300, New York, N.Y. 10036. Call  (212) 840-0770 for more information.