With Information Technology Services in its new location in Job Hall, construction is nearing completion for the Office of Career Services to move into the space vacated by ITS in Muller Center.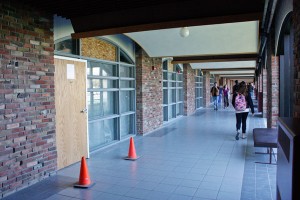 Career Services will move from its location on the first floor of the Gannett Center to a larger location in Muller beginning in mid-May, hoping to be in a more visible location to the campus community. The art history and anthropology departments will then expand to fill the vacated space on the first floor of the Gannett Center.
The completion of the Peggy Ryan Williams Center has created a domino effect, allowing different departments to move around campus to locations that better suit their needs, according to John Fracchia, associate director of Career Services.
Fracchia said the new location will be a substantial upgrade.
"Where we're going is going to be such a good thing for students; it's going to be a good thing for our office," he said.
The primary benefit for Career Services will be moving to a location that receives more foot traffic.
"The first floor of the library may seem a little out of the way," Fracchia said. "Muller is a main hallway."
Sophomore Alexandra Romanet, a peer career adviser for Career Services, said she also thinks the busy halls of Muller will help bring more students to Career Services.
"Students will see us even passing by their classes or going to the Bookstore, just walking around," she said.
A key upgrade for Career Services will include an enlarged library, giving Career Services the ability to have presentations in the center instead of in classrooms or Campus Center, according to Fracchia.
The renovated center will also include three plasma televisions — two inside the library and one outside in the hallway to advertise Career Center events — and three mock interview rooms.
Construction began in mid-February and has progressed on schedule, according to project manager Jeff Paddock. The construction workers are beginning to do the finishing work, he said.
"They'll soon begin carpeting and hanging doors," Paddock said.
The space currently occupied by Career Services will house the art history and anthropology departments. Renovation on the space should begin May 17 and is expected to be finished in time for this fall.
Improvements for the art history and anthropology departments will include more separation of the classrooms and offices of the two departments and a shared seminar classroom.
"The biggest benefit is that they're adding an extra seminar classroom that we'll be using for a lot of our mid- and upper-level classes," said Jack Rossen, associate professor and chair of the anthropology department.
When the construction is finished, a number of departments and services will have upgraded their physical locations to better serve students, Fracchia said.
"It's a win for everybody," Fracchia said.