In the spring of 1967, a 20-year-old Carl Sgrecci got into his parents' car and drove up to Ithaca College from Watkins Glen, N.Y. He drove up the dirt road that went across where the athletic fields lie today and pulled up near the flagpole in front of Textor Hall. He stepped out of his car, a slightly apprehensive sophomore at Corning Community College who had come to explore the campus before transferring in.
Forty six years later, Sgrecci sits in his office on the third floor of Peggy Ryan Williams Center — not far from that flagpole — where he serves as the college's vice president for finance and administration. After being a student, faculty member and administrator at the college, Sgrecci '69 will retire in August.
Sgrecci, who has come to be known as the "chief financial officer with a heart," often walks down the hallway that connects Job Hall, Friends Hall, Textor Hall and Muller Center, with an unfailing smile on his face.
However, when Sgrecci first walked that same hallway 46 years ago, he was not smiling.
"That long hallway and people walking up and down it, going to and from classes really intimidated me when I walked in," Sgrecci said.
One of Sgrecci's most memorable moments of his time as a student at the college was the arrival of the famed Textor Ball when the college was celebrating its 75th anniversary in 1967.
"I was here on campus the morning that the silver ball that's out on top of Textor Hall was delivered," he said. "It came across campus on a low-bed tractor trailer. It was all enshrouded in black plastic. Nobody knew what it was."
Even when it first arrived, Sgrecci said, students had different speculations about the plastic-covered delivery.
"We were students, smart alecks," he said. "There were people who thought maybe it was a statue of the president's wife."
Sgrecci was a commuting student. However, he said living off campus put him at a disadvantage, because he could not experience student life in its entirety.
"In retrospect, I've always regretted that, because I don't have the large core of close friends that go way back," he said.
Two years later, Sgrecci graduated with a Bachelor of Science degree in accounting.
Sgrecci said his whole career has been "an accident," a series of unexpected opportunities that began when he was hired by the college in a back hallway the day he went to pick up his diploma.
"The chairman of the [accounting] department was there, and he asked me if he could talk to me for a minute," Sgrecci said. "So he pulled me aside and asked me if I would be interested in teaching the next year, because they were cut short because [a faculty member had] left so suddenly. I said, 'Sure.'"
With that, Sgrecci began teaching at the college in the fall of 1969. While teaching, Sgrecci also continued his education and received a master's degree at Syracuse University.
"I had a great time teaching the undergraduates," he said. "I just loved it."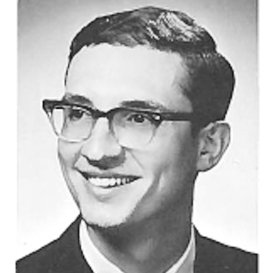 Steve McCluski '74, a member of the college's board of trustees, was one of the students in Sgrecci's 8 a.m. intermediate accounting class in 1972. It was in this class that McCluski met his future wife, Kim (Joslyn) McCluski '74.
"In his intermediate accounting class, there was a young lady named Kim who I started sitting next to and ultimately has become my wife," McCluski said.
Sgrecci also met his wife at the college. Marilyn Sgrecci had graduated from Michigan State University and had just begun an administrative position on the second floor of the Muller Center in 1971. Sgrecci's office was on the fourth floor of Muller.
"One day, I was looking out of the window, and there was this good-looking blonde that was talking to another college employee, and I said 'Gee, I wonder who that is," Sgrecci said.
Marilyn said one of the sociology professors, Jules Burgevin, who was notorious for matchmaking, had noticed Sgrecci's interest and set up a meeting between the two of them.
"He arranged to have us meet [in the duplicating center], and then he kind of left us on our own, and we hit it off right away," she said. "I think our first date was actually the next night. I believe it was a Friday night, and believe it or not, our first date was to go to the movie in Elmira called 'Dirty Harry.'"
This year, Sgrecci and Marilyn celebrated 40 years of marriage.
The college changed Sgrecci's life, and Sgrecci changed the college. In 1970, while Sgrecci was a faculty member, the Garden Apartments were under construction. He remembers an unpleasant sight that once awaited him.
"One morning I came on campus and they were spray painting [the Garden apartments] white," he said. "They were painted white, and it was the most god-awful, chalk white you could possibly imagine. And those beautiful bricks were under there."
For 30 years, they remained white. But Sgrecci worked to change this. So over a summer in around the year 2000, the white-colored apartment walls were sandblasted and the bricks beneath them were revealed.
"It was one of my favorite projects," he said.
In 1975, Sgrecci became a member of the college's staff, when he was named controller, and later, treasurer of the college, where he was responsible for collecting and spending the college's operating budget and overseeing the investment of endowment funds by outside managers.
Sgrecci said the most formative year of his career had been his tenure as the vice president for student affairs and campus life, which he took up in 1987. He said the post gave him a glimpse of student life at the college, since he had lived off campus while he was a student.
In 2003, Sgrecci was appointed to the newly created position of vice president of finance and administration.
Peggy Ryan Williams, who was president at that time, said Sgrecci grew into the new position within a short period of time.
In his post as vice president of finance and administration, Sgrecci officially oversees the office of business and finance, the office of facilities, human resources and Information Technology Services.
Sgrecci's view of his tasks is slightly different from the official job description.
"Every employee here is an important cog in the gear that is Ithaca College, and my job is to try to keep things oiled," he said.
Sgrecci has worked under five of the eight presidents of the college: Howard Dillingham, Ellis Phillips, James Whalen, Williams and current president Tom Rochon.
Rochon said he remembers researching Sgrecci ahead of an interview for the post of president at the college five years ago. He said he was at first concerned when he heard of Sgrecci's long history at the college.
"I hoped he would be amenable to learning from me and that we would be a leadership team, rather than him feeling that he knows Ithaca College backwards and forwards," Rochon said. "What's funny about that is we immediately formed a wonderful team together, and it was exactly the opposite of what my fear had been."
As the time for his retirement approaches, Sgrecci said he has been more reflective. But Sgrecci said he is leaving the college with no regrets or "if only's."
"As you get older, you worry about getting older and realize how much time has passed," he said. "But I really don't have any regrets. I don't think about living it over again. I have been blessed. I really have been blessed at a job I enjoy doing 99.9 percent of the time. I just feel very, very fortunate."
Williams said she hopes the person taking Sgrecci's place will continue to keep students, staff and faculty in mind when making decisions.
"He is not a narrow financial person who just thinks about money and computing links and whatnot," she said. "He really has a very broad view of what the college is all about. I think that's a real gift and I hope that his successor will do likewise."
Sgrecci said he plans to visit the college occasionally after retirement, for either a swim in the A&E center pool or for a social event, like a football game.
Marilyn said she expects that her husband will continue to watch the college's progress.
"He is not a person to sit and read and watch the world go by," she said. "He is going to keep on being involved. I know he will look at the college from a distance and watch it continue to grow."