The Park Center for Independent Media announced yesterday that Democracy Now! correspondent Sharif Abdel Kouddous, and the Center for Media and Democracy will be the recipients of the fourth annual Izzy Award.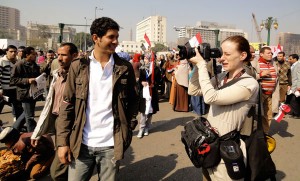 Named in honor of the late I.F. "Izzy" Stone, a legendary American investigative journalist, the award is given to celebrate achievement in independent media. Stone's independent newsletter I.F. Stone's Weekly, which was published from 1953 to  1971, fought against McCarthyism, racism and government corruption. This year, the award honors persistence in covering the Arab Spring revolutions and attention to the unrest surrounding the political power of large corporations.
"Giving voice to the voiceless, uncovering government wrongdoing, uncovering corporate malfeasance and acting really as a check-up power is something that I think goes to the very core of what good journalism is," Kouddous said. "So to receive this award as an homage to I.F. Stone is a great honor to me."
Kouddous was born in the United States and lived in Egypt from the ages of four to 18. He said he knew he should return to Egypt to cover the protests when he received a phone call from his cousin, who said people were planning to overthrow the government.
Jeff Cohen, director of the Park Center for Independent Media and associate professor of journalism, said both Kouddous and the Center for Media and Democracy offered comprehensive coverage of world events. Kouddous offered more information than traditional news networks, he said, because Kouddous spoke the language and understood the culture.
"The thing that amazed the judges is he would tell you what's happened in the last few hours while tear gas is exploding, and then put it in a broad context of, 'Here's what's happening nationally, and here's what we need to look at for tomorrow,'" he said. "The mix of on-the-street reporting with analysis is superior to anything in the mainstream."
The award comes at a time when independent media has become crucial on an
international level. During the Arab Spring, organizations like Al Jazeera were praised for their coverage during the uprisings in Tunisia, Egypt and Libya, and now in Syria.
Cohen said the Center for Media and Democracy was selected because it uncovered important stories that lacked mainstream coverage. An example of this, he said, is the center's coverage of the American Legislative Exchange Council, an ideologically conservative nonprofit policy organization.
"CMD found this group that was previously pretty
obscure, ALEC, that is getting laws passed in state after state abridging the rights of poor people, black people and minorities, and students to vote," he said. "This group has received almost no scrutiny in mainstream
media until this nonprofit news group started the ball rolling."
Mary Bottari, director of the Real Economy Project for the Center for Media and
Democracy, was involved with the center's coverage of ALEC. She said the documents that inspired the investigation of ALEC were given to the center by a whistle-blower, and then the center's staff spent weeks sorting, analyzing and publishing documents that are now being used for hundreds of investigative pieces by other writers.
"It's a huge honor for us to be given an award that follows in the steps of I.F. Stone," she said. "Stone excelled at debunking government propaganda and government spin, and that's what we think the ALEC Exposed project is all about."
Maura Stephens, associate director of PCIM, said both winners exemplify the ideals behind the Izzy award.
"They're investigative independent journalists, not slanted through any connection with organizations or corporations or governments," she said. "They are people who are reporting what they see on the ground."
Cohen said both the Center for Media and Democracy and Kouddous emulate Stone's philosophy of journalism.
"We always look for people carrying the Izzy Stone legacy forward and these two, Sharif and the center, both are scrutinizing the powerful while standing with the powerless," Cohen said. "And that's what Izzy Stone did his whole life."
Lisa Graves, executive director of CMD, and Kouddous will receive their awards April 10. A time and location are still to
be determined.
News editor Kelsey O'Connor, Assistant News Editor Elma Gonzalez, Online Editor Patrick Duprey and Accent Editor Shea O'Meara contributed to this report.