After the success of last year's pilot program, the Office of Counseling and Wellness will sponsor the Wellness Wednesday series again this semester.
Will Fudeman, a graduate of New England School of Acupuncture, taught students yesterday how to control psychological problems and relieve pain with acupuncture. Forty-three students, faculty and staff showed up to learn about the ancient medical procedure.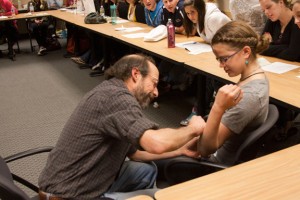 The program will include 10 additional workshops covering a wide range of health-related topics and is open to all members of the campus community. The weekly workshops will be held at noon Wednesdays in the Ithaca Falls Room.
Nancy Reynolds, director of the Health Promotion Center and the program, said she hopes the series will become a permanent part of the campus community that gives students, faculty and staff a quick way to learn more about physical and psychological health.
"We looked for topics we thought were of interest — topics that people might not know a lot about," Reynolds said.
The creation of the program was triggered by the desire to promote health on campus, Reynolds said. The program has the potential to help students adjust to college life and stay healthy despite high stress levels.
Topics this semester focus on fitness, eating habits and alternative medicine. Last semester, students were asked to give feedback about what they might be interested in hearing at meetings. After discussing all the possibilities, Reynolds and senior Dena Cohen, a student intern at the center, made the final selections.
"We ask the speakers to specifically address issues that were sensitive to the challenges students face around schedules and budget consideration," Reynolds said.
Cohen said she attended a workshop last semester geared toward helping students adapt to the stresses of college life. As an intern this semester, she said she hopes to expand the number of students involved with the program by offering topics that might interest many demographics.
"I was really stressed out about school and thought the topic would be interesting," Cohen said. "This year we are doing a lot more stuff with alternative health, so we hope it will spark [people's] interest."
Because the meetings are held during the lunch hour, students can show up with their lunch and learn about health issues. The wellness series is not a club, so students do not have to attend every session or pre-register, Reynolds said.
Sophomore Rachel Heiss, a Student Government Association senator, met Reynolds through her involvement in SGA's First Year Experience Coordinating Committee last semester and agreed to help publicize Wellness Wednesday events.
After creating an event on Facebook, Heiss said she received several student responses, but the limited space in the Cayuga Lake Room, where the meetings were held, prevented a large turnout.
"Students had to be turned away because there wasn't enough seating capacity," Heiss said.
Keeping this in mind, Reynolds said they moved the meetings to the Ithaca Falls Room this semester in hopes of encouraging a larger turnout.
Heiss said she attended the session called "Biofeedback: How relaxed are you?" last year and it helped her wind down and relieve stress.
"It taught me even taking 30 minutes out of your day to breathe really helps in terms of your mental and physical health," Heiss said. "I highly suggest [the series]."