For the past three decades, Mary Humenay has been a self-described midwife for college students seeking spiritual guidance.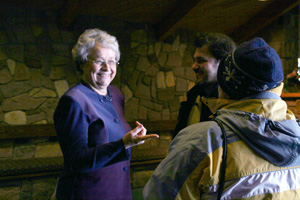 "I'm always coaching, I'm always inviting people to grow more,"
Humenay said in her office in the basement of Muller Chapel. "It's probably the greatest joy in my life."
On July 1, Humenay will retire after teaching young people for 45 years, the last 10 of which were spent as the Catholic chaplain at the college.
After 17 years of teaching in elementary, middle, junior and high schools, Humenay spent time at Villa Maria College and Edinboro University before arriving on South Hill in 1997.
At the time, she was interviewing at several colleges and wanted to cancel the rest of her trips because she quickly fell in love with the Ithaca campus and community. Instead, she went on to interview in both Tennessee and South Carolina.
"I had tickets in hand so I had to go, but I kept thinking, 'Oh, I want to come back here. I want to come back to Ithaca College,'" Humenay said.
Soon after she was offered a position in Muller Chapel, Humenay went to work organizing retreats, Bible studies, and leadership and personal development programs. Along with Father Scott Kubinski, Humenay was able to build a strong Catholic community on campus.
"She was the best partner in ministry that I've had in 25 years, so she was wonderful to work with," Kubinski said. "She was able to help lots of students and faculty to really look at their faith life and see it as an ever-changing reality."
For Humenay, helping young people grow spiritually has been her greatest reward. She said her most cherished experiences with students were conversations in the chapel that sometimes lasted late into the night.
"I love their spirit," she said. "I love their eagerness. I love their ability to question. I love their excitement about life, about challenge. I love the way they challenge me sometimes in my own thinking, my own rationalizing."
Joe Fazzio '06 said Humenay was like a mother to many students.
"She was always around if you needed a confidant," Fazzio said. "She was always that person that you knew you could trust. She was always very welcoming, very friendly."
Humenay said she doesn't have any big plans for retirement. After moving back to Erie, Pa., she wants to catch up on reading books by Frank McCourt and Ronald Rolheiser, and travel to see friends and family.
But, Humenay said, she'll always have another home at the college.
"A lot of what I've done here has been a seed-planter, and … the greatest gift is to know that there's going to be a harvest of young people for me," she said. "My prayer is that I have made some kind of imprint on their lives."