Local entrepreneurs are creating new business models to change the way Ithacans communicate and work with each other in an effort to rejuvenate the local economy in a post-recession era.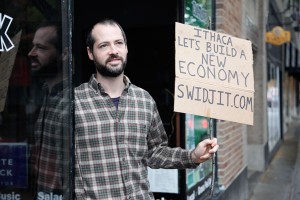 At a panel Oct. 13, the Sustainable Enterprise and Entrepreneur Network identified four initiatives — Ithaca Hours, time banking, Share Tompkins and a website called Swidjit — as sustainable efforts to revive the local economy.
In 2010, annual consumer spending dropped 2 percent nationally, according to data from the Bureau of Labor. Economic growth fell by 0.6 percent in 2009 and grew by 2.4 percent in 2010 according to the Tompkins County Index of Economic Activity.
Michael Shuman, economist, author and research and economic development director of the Business Alliance for Local Living Economies, a network that represents local businesses in 30 states nationwide, said if Tompkins County revitalizes local businesses, it has the potential to create 21,473 new jobs and $1.2 billion in possible new wages.
During his speech, "Revitalizing Tompkins County," on Tuesday, Shuman said boosting local businesses benefits the environment, public health and global image. "At the end of the day, a local economy leaves a community richer," he said.
In 1991, a group of community members created Ithaca Hours, a local currency to keep money in the community between small businesses and individuals. The organization celebrates its 20th anniversary this month and is the longest running local currency system in the country.
To participate in the Ithaca Hour system, a volunteer would do a certain number of service hours and in exchange would receive Ithaca Hours, which the volunteer can then "spend" on other services, like gardening or painting. Every "hour" is worth $10.
Ithaca Hours Board President Stephen Burke, said he hopes to change the way the system is used by creating an online banking resource for members to track their credit and exchange hours with other users.
"Here's money that's available to earn doing stuff that you like," he said.
Time banking is another way for community members to barter services. Though users will not exchange physical currency, time bank members will build "credit" by clocking in at a certain number of service hours.
To organize local exchanges, Alex Colket, creator of a new website called Swidjit, is developing a forum for Ithaca residents to offer goods and services, promote events and connect with a directory of local people, places and activities.
The site, which launched in August, serves as a portal for small businesses, nonprofits, local government officials and residents, almost like Craigslist, but exclusively for the Ithaca community.
Colket said he wants Swidjit to encourage people to realize what their neighbors and local businesses have to offer.
"The Internet has shown itself in ample ways to connect and share with people around the world," he said. "But somehow we don't really have a place where we connect and share with people in our towns and neighborhoods and dorms."
Colket said about 4,000 people in Tompkins County have visited the site. Though Swidjit is a work in progress, he said he hopes the updates will allow Ithaca to serve as a prototype for other communities in the future.
In Ithaca, an online system to document this form of exchange is expected to be completed by the end of this year, Leslie Strebel, a board member of the Alternatives Federal Credit Union who is leading a group of more than 20 community members to develop and test the system, said.
"Unlike traditional barter, if I do something for you, you don't have to do something for me," she said. "If I do something for you, I have a credit in the bank, and I can redeem that credit from any other member in the time bank."
Each hour is worth the same in the time bank, and users will have a larger variety of services to choose from if more members participate.
Shira Golding is a co-founder of Share Tompkins, a volunteer-run organization that helps community members share and trade goods in the county online. The group also organizes Community Swap Meets, events where people will exchange goods like homemade ceramics and art for locally grown vegetables or baked bread.
Golding said several hundred people attended more than 20 of their events in the past two years. Now, she said, the organization's members hope to spread its ideas to more communities in the county.
"We're encouraging people in the community to see us as a resource and a place that helps promote, so that they can take the lead and host their own swap or free market in their backyard or a community space," she said.
Strebel said time banking allows people who are underemployed or out of work to contribute to the economy.
"It's a very elegant way for people who don't have a lot of cash on hand to access services that they need to feel valued and productive in society, when the economy may not be making them feel that way," she said.
Strebel said these initiatives will replace the way people measure their quality of life as communities across the nation begin to reconsider creative ways to be sustainable.
"It's really going to be a measure of the tightness of community bonds and how secure people feel about getting what they need and when they need it from their neighbor, so they don't have to rely on multi-national corporations to meet needs," she said.
Golding said she hopes these initiatives will set an example for other struggling cities.
"The more approaches we experiment with as a community, the more this sharing culture can survive, and hopefully it can continue to be a model for other communities."