The nine Ithaca College students in Stephen Sweet's Work and the Family class did not expect to do extensive undergraduate research but engaged in a semester-long project to study the relationships between college employees' work and family dynamic.
They discovered that employees enjoy their work experience at the college. However, research also showed that workers wish they had more career flexibility because jobs interfere with their physical health and well-being in a negative way, Sweet, an associate professor of sociology, said.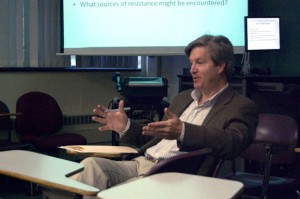 The class was designed as part of the Ithaca College Wellness Initiative, a project funded by the IC² grants, to incorporate "integrative learning," Miranda Kaye, assistant professor of exercise and sport sciences, said.
"By students conducting projects that they are interested in, there is a lot more learning that is going to take place than just me giving them information that they need to know," she said.
Through the Wellness Initiative drafted by Sweet, Kaye and Mary Ann Erickson, associate professor of gerontology, students can research problems related to aspects of health and develop their own solutions.
Sweet, associate professor of sociology, said while he set the parameters for the class project, the students conducted every aspect of the interviewing and researching process as well as discussed whom they wanted to include in the study.
"The project is largely about experiential learning," he said. "The idea was to actually get students engaged in doing real professional work and doing it in a systematic and rigorous way."
Senior sociology major Keith VanderBrooke, a member of the class, said while he did not expect to conduct a study where students collected their own research, he thought it was a beneficial opportunity.
"He's pretty much been trusting us to go and find these people, which feels nice, but it's a lot of expectation to live up to," VanderBrooke said.
Senior sociology major Alyssa Van Auken said employees such as professors and administrators enjoyed their work accomplishments but wished they had more time in which to complete things.
"The people that I interviewed were at levels where they had a lot of work responsibilities, and a lot spent outside of work doing work things, like e-mailing from home," Van Auken said. "But no one asked for less work. They just asked for more time in which to do it, which is what I thought was most interesting."
Junior Haley Samiljan said her research focused on employees who also need to care for family, such as young children or elderly parents.
"It's not an easy task to have the family responsibility as well as work responsibility in any level of employment, and that it's a continuous struggle," she said.
Samiljan said she expected a class that was more discussion-based rather than one that incorporated an undergraduate research project. However, she can see herself doing research like this in the future.
"I felt like a real sociologist," she said. "It made me feel like the work I was doing was valid. It was something I've never done before and don't know how to describe it other than real."
Sweet said he is confident that the students' work is accurate because it coincided with his own research and prior knowledge of work and family.
"I've been delighted — absolutely delighted with the quality of work and commitment to the work," Sweet said.
Students hope to present their findings Feb. 27 at the Eastern Sociological Society Meeting in Philadelphia and between March 31 and April 2 at the National Conference on Undergraduate Research at the college.