Ithaca College continued its search for its next vice president of Institutional Advancement on Wednesday when Ithaca native Michael Archibald visited the campus.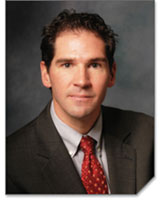 Michael Archibald, the second candidate for the position, addressed college officials, including President Tom Rochon and Carl Sgrecci, vice president for finance and administration and chair of the seven-member search committee, at the open meeting held in Clark Lounge in the Campus Center.
The vice president's job is to acquire funds to enhance the college's infrastructure, to provide resources for academic programs and to fund student financial assistance and scholarships. Shelley Semmler, who is set to retire in February, currently occupies the position.
Archibald left Ithaca at 8 years old and moved to Maine where he graduated from Colby College. He's worked for St. Lawrence University since 1991, resigning his post as vice president for university advancement in August. He held the position for 10 years.
Archibald said it was the college's scope and size that attracted him.
"It's both small enough to focus on teaching and learning and student-faculty interactions and student experience, but large enough, through its schools and graduate programs, to have efficiency of scale in its efforts," Archibald said.
Archibald said he supports the college's IC 20/20 Vision Plan, which was approved by the Board of Trustees in May. One of the vice president's main objectives will be to initiate funds for IC 20/20-based initiatives.
"I am very impressed by the direction and strength of the administrative leadership, President Rochon and the IC 20/20 plan that's in place, which is well developed, articulate, clear and the beginning of an operative plan that I think is prime to be translated into specific funding opportunities," Archibald said.
Nancy Harvin, vice president for academic advancement at the Culinary Institute of America, who visited the campus Nov. 3, and a third unannounced candidate are also seeking the position.