Ithaca College may not show many traditional elements of American Indian culture, but as the Cayuga Nation flag hangs in the Academic Quad this November during Native American Heritage Month, members of the campus community will be reminded of the country's indigenous predecessors.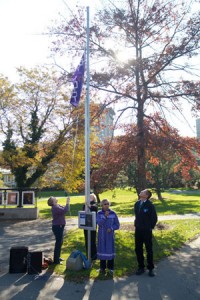 Events in honor of the month included a flag raising, identity panel, and a comedy performance by Native American Charlie Hill and will conclude with a documentary film screening Monday.
Brooke Hansen, associate professor and Native American studies coordinator, is responsible for planning these events and said she enjoys connecting the two cultures through such activities.
"They really want us to know more about them," Hansen said. "The native culture is so rich and full with ceremony, friends and support."
There are 12 undergraduate and two graduate American Indian or Native Alaskan students on campus, according to data provided by the Office of Institutional Research.
Hansen created the Native American Studies minor on campus in 2004 alongside Jack Rossen, chair of the anthropology department. There are currently 10 students enrolled in the minor, but Rossen said its importance relies on educating beyond that number.
"It's a really important point that the minor has a really broad impact across campus, much bigger than the 10 students who take it," Rossen said.
Rossen said the events in honor of the month exemplify what the minor focuses on and is a step toward gaining student and faculty support. Rossen said he has been impressed by the attendance at the Native American events. Ten students attended the flag raising, and about 40 students attended the identity panel.
Rossen said contemporary Native Americans must balance the advancements of modern society with a traditional cultural lifestyle.
"When they're on the reservation, they wear their moccasins," Hansen said. "When they leave the reservation, they put their white man shoes on."
At the Native American Identity Panel held Nov. 1, six native students and Native American faculty member Hollie Kulago discussed growing up as Native Americans in today's United States. Sophomore Blake Wetherbee, one of the students on the panel, said the panel told stories about discrimination, stereotyping and, as the title hints, identity.
"For my part, I told a story about being called a Nazi by a fellow elementary student because I am blond-haired and blue eyed," Wetherbee said. "But when I told him that I was of Native American descent, all he did was recite the Florida State Football chant with full tomahawk-chopping motion."
Wetherbee said he has always felt as though it was up to him to learn about his culture but said he is proud of his Seminole ties.
"What makes me proud of my heritage is the fact that Seminoles and the larger Native American population lived closely with nature. They tread softly on the land and believed in the overarching power of the natural forces around us. The ultimate connection between myself and my ancestors lies in my relationship with the natural world."
To continue the month's commemoration, there will be a screening of "Bright Circle," a film that depicts the role of Native Americans in sports, Monday at 7 p.m. in Textor 103.
"I think that the Native American Studies program coordinators have done a great job with organizing these cultural events for IC," Wetherbee said. "It's all very important — breaking the Ithaca bubble is important."