The conference, called "Re-Imagining Upstate New York's Energy Future," offered attendees the chance to hear from panels, learn information about renewable energy companies and take tours of the college's LEED-certified buildings.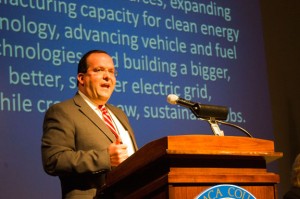 A four-person panel discussion covered what a clean energy future could look like in New York state — tackling subjects such as clean energy technology, green jobs and successful green business development. The panel included Carol Murphy, executive director of the Alliance for Clean Energy; Patrice Courtney Strong, vice president of The Solar Energy Consortium; Paul Shatsoff, director of public policy and government relations for the Workforce Development Institute; and Patrick Doyle, director of business development for the Broome County Industrial Development Authority.
Shatsoff said New York state is in a new energy era in terms of its clean energy policies and the economic development opportunities in clean energy.
"We are in the middle of a tornado of change," Shatsoff said. "We don't know where things are going to settle."
At the Workforce Development Institute, Shatsoff helps working families try to address issues like job training, creation of jobs and the effects of new technologies on the workforce. He said the new innovations and technologies created every day would continue to be developed in the power sector to help reduce the country's dependence on fossil fuels.
"The same unexpected change will happen with energy," he said. "Someone's going to crack the problem."
Doyle said while upstate New York is often given a negative "energy" image, there are plenty of companies working hard to make that positive change in the state's energy dependence.
"We need to find innovative ways to re-brand upstate New York," he said. "If you look around upstate, you can find all kinds of examples of various smart people in small companies doing interesting things, and we've got to find ways to tap into that. We've got a good story to tell."
A second panel discussion on the current developments in clean energy research featured Beth Ellen Clark Joseph, associate professor and chair of the college's department of physics, as well as Alan Paau, executive director and vice provost for technology transfer and economic development at Cornell University's Center for Technology Enterprise and Commercialization.
Attendees later listened to a keynote address by U.S. Rep. Maurice D. Hinchey, D-N.Y. Hinchey said New York state needed to continue to work to be a leader in renewable energy and green practices.
Marian Brown, special assistant to the provost and one of the event's coordinators, said the summit was not only a way to foster discussion on how businesses can come together to create a better energy future for New York state, but also on how students can see what options they have to use their degrees after college.
"A bigger piece of it is being an educational host for the community," Brown said. "It's also to let our faculty and students know the possibilities. … [This summit] is for them to get a sense of what viable careers there are in this area."
Junior Devan Johnson attended the conference with her Sustainability Principles and Practices class. She said it was important for students to attend because it offered insight into how people in the area can be more efficient in their energy use.
"It's important to learn about what kind of clean energy options there are out there and what people are doing to try and make things more sustainable," she said.
Students also walked through the North Foyer outside Emerson Suites and spoke with company representatives from 16 local businesses and campus organizations on how they can use their degrees to rebuild the state's energy future.
Senior Stephanie Piech, an environmental studies major at the college, helped host a table for the college's Dining Services as part of her sustainability internship with the department.
Piech said the conference sessions, when paired with her experience working with a large corporation like Sodexo, has opened her eyes to new facets of sustainability, particularly at the corporate level.
"Its really interesting to see how sustainability is not just a grassroots movement," she said.
Strong said it is important for people from all different backgrounds to feel they can join the energy sector.
"We are all at a loss unless we can speak each other's languages," she said. "Then we can all move forward together."