With a goal to reach carbon-neutrality by 2050, Ithaca College is behind on reaching its target emission levels for the current academic year.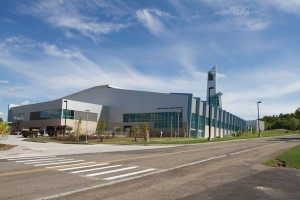 While the college has made strides in sustainability in the dining halls and small energy efficiency upgrades, Mark Darling, sustainability programs coordinator for
Facilities Services, said the college is not on par with the efforts of other educational institutions.
"Looking at other campuses, I'd say we're a little behind the curve," he said. "We're doing some really great stuff, but it's so spotty. Dining services and what we're doing in those kitchens? We're way ahead. Campus vehicles? We're behind the curve."
Darling said Oberlin College is a model of success in achieving high ratings of sustainability. In the on-campus transportation sector, Binghamton University has been trying electric vehicles and other alternatives, which Darling said would be used as a model when the college decides to make changes in the same areas.
Energy consumption and transportation are two of the areas the college has to address in order to make significant changes in the campus' carbon footprint.
The college's Climate Action Plan, which committed the college to a 40-year track to become carbon-neutral by 2050, was approved in the fall of 2009. The plan identifies areas of importance for energy efficiency and carbon mitigation on campus.
Carl Sgrecci, vice president of finance and administration, said the college's goal has been to increase energy efficiency and decrease consumption. Initiatives to change light bulbs and light fixtures, replacing gears in heating systems and significant efforts made by Dining Services have all impacted the college's overall energy consumption.
"The emphasis in this first stage of the plan has really been to curtail energy consumption as much as possible," Sgrecci said. "And we were having pretty good luck. We were able to add square footage to the campus and keep our energy consumption actually going down until last year."
Darling said the college will factor in the fact that the addition of the Athletics and Events Center will increase average energy use and carbon emissions of the college.
"We anticipated that having an impact," Darling said. "We were really excited because last year we made huge gains and then those gains evaporated the following year."
Michelle Jones, facilities energy manager, said some of these small changes were substantial undertakings and have impacted the college's overall energy usage.
"Almost 100 percent of the lighting on campus has been retrofitted to the most efficient [compact fluorescent lights] on the market at this point," she said.
Though improvements are being made to increase efficiency, Darling said the college remains conscious of its fiscal situation, though it does not have a specific sustainability budget.
Sgrecci said these upgrades, while beneficial, are not the big gestures the college needs to make to reach its sustainability goals.
"For our carbon footprint, we're making good progress, but it's been the easy part," Sgrecci said. "Now we've got to start looking at what we can do longer term to continue to be on target."
Marian Brown, special assistant to the provost for sustainability, said the college is focusing on increasing consciousness of the campus community who are using the buildings.
"[We will] try to make buildings as efficient as possible and engage the occupancy in them," she said.