Ithaca College was one of nine schools to receive recognition from the National Wildlife Federation this month for its sustainability initiatives on campus.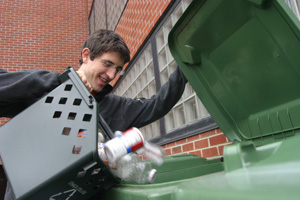 The college will be recognized in the annual Campus Ecology Yearbook, which gathers case studies from campus teams documenting successful sustainable and environmental actions taken by colleges and universities around the world. The NWF's mission is to inspire Americans to protect wildlife for future generations.
Though more than 50 schools submitted yearbook applications, the college was chosen based on its first-year seminar program, "Sustaining Our World: Hope for the Future." The program is the result of the college's effort to create interdisciplinary courses that explore sustainability.
In the first-year seminar, students are exposed to the environmental, economic and social aspects of sustainability, while also focusing on issues students experience on campus.
Peter Bardaglio, provost and vice president for academic affairs, said the recognition could be attributed directly to the work faculty members have done to implement sustainability across the curriculum.
"I am especially excited about the way in which the first-year Ithaca seminar has exposed students to sustainability thinking in the course," he said.
Each college's proposal, including its goals and objectives, was reviewed by a panel of judges that looked at criteria, including specific goals set by the schools, how they engage all levels of the campus in sustainability, educational components and how committed the school is toward conservation and sustainability, said Kristin Kranendonk, NWF campus ecology coordinator.
"It's one of the biggest ways to acknowledge schools," she said.
The other colleges receiving awards are American University, Colby College, Daemen College, Berkshire School, Franklin Pierce College, University of British Columbia, University of West Alabama and Williams College.
Marian Brown, assistant to the provost, who submitted the case study that received the award, said part of the reason the college received the recognition is because it's still slightly unusual for a campus to be implementing sustainability into the curriculum across a variety of different disciplines.
"You catch students early in their college career, and you change their world view and the way they see things," she said.
David Saiia, assistant professor of business management, who teaches one of the sections of the first-year seminar, said he was pleasantly surprised with the news about the award.
"The whole sustainability concept is kind of rapidly evolving, and more and more colleges and universities around the U.S. and around the world are getting involved," he said. "So [the college] is really on the cutting edge of something really great."
Freshman Jeff Bush said it's important that all students are exposed to sustainability.
"Sustainability is not just about the environment. It's economics and society," he said. "If the class doesn't tie into a student's major, then it ties into their lives."