The Peggy Ryan Williams Center recently achieved the highest possible national recognition of sustainability — a Leadership in Energy and Environmental Design Platinum certification — from the U.S. Green Building Council.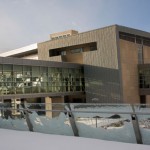 The certification aligns the center with the ranks of Ithaca College's Dorothy D. and Roy H. Park Center for Business and Sustainable Enterprise and puts the college in a league with Yale University as one of two academic institutions in the nation to have two buildings with a platinum certification.
Marian Brown, special assistant to the provost and vice president of academic affairs, said the honor shows the college's efforts to become more sustainable have been noticed.
"To have a few LEED Platinum buildings really puts us in an elite group of institutions," she said.
The LEED system awards points based on categories such as indoor environmental quality, materials and resources and water efficiency.
Sustainable features in the Peggy Ryan Williams Center include a vegetated roof area that reduces airborne pollutants and adds oxygen to the atmosphere as well as sensors that control light fixtures and ventilation that are based on natural light levels and room occupancy in an effort to conserve electricity. The building also has a 12,000-gallon tank that collects rainwater below the garden from the roof, which lends itself to more than 85 percent of the building's yearly water needs.
The Dorothy D. and Roy H. Park Center for Business and Sustainable Enterprise and the Peggy Ryan Williams Center were designed to use 30 to 40 percent less energy than comparable buildings of their size, which Brown said carries a direct financial benefit.
The Peggy Ryan Williams Center uses $77,500 every year in electricity and natural gas combined, which saves the college more than $35,000 per year, Brown said.
She said the link between the Dillingham Center and Job Hall received LEED Gold certification. In addition, she said the college has made a commitment to achieve at least LEED Silver certifications for all new construction and renovation projects, including the Athletic and Events Center.
"It gives us an opportunity to learn what works — both for new construction and also technologies that we might employ as we upgrade our existing buildings to become more sustainable," Brown said.
Junior Margaret Keating, co-president of the Ithaca College Environmental Society, said the certification puts the college on the map in terms of sustainability practices.
"It makes the Peggy Ryan Williams Center and the business school models for other schools and green culture," Keating said.
Brown said there are no renovation projects currently scheduled, but the college is looking at ways to make the Quad Residence Halls, which were built in the 1960s, more sustainable and energy-saving.
Mark Darling, sustainable programs coordinator, said LEED is becoming a standard in construction across the country, and having more sustainable buildings yields having a more attractive campus.
"The buildings are certainly making a statement about what you should expect when you come to Ithaca College," Darling said. "I've already heard statements from the community that this puts us on the map as a sustainable institution."
Keating said colleges have a large impact on the environment because of the high amount of energy they use throughout the country. Keating said it is important that people are aware of sustainability practices because of harmful long-term effects.
"It's essential that colleges and universities create the most sustainable future possible," she said. "It may not seem like a factor in the environment now but it will for future generations."