This year, Ithaca College is witnessing the most freshman class diversity in its history, with a larger number of African, Latino, Asian and Native American students.
The 2011 freshman class is made up of 18.2 percent ALANA students, compared to 15.1 percent in 2010, 14.9 percent in 2009 and 13.4 percent in 2008.
Eric Maguire, vice president for enrollment management, said in an email that this year's freshman class has the highest percentage of ALANA students in the past four years. He said the increase is part of the IC 20/20 vision to further diversify the student population.
"The current freshman class continues a steady increase in our ALANA student enrollment and is the most diverse class in the college's history by a significant margin," Maguire said.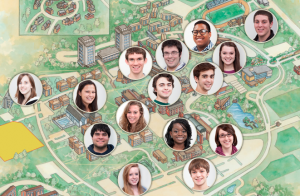 This year's freshman class has a total of 304 ALANA students, compared with the 2010 freshman class, which had a total of 249. In 2009, the number of ALANA students was also at 304, but that was a lower percentage of the entire student body. In 2008, there were 196.
Maguire said the ALANA increase can be attributed to the higher level of diversity among college-bound students nationwide, in addition to improved recruiting techniques.
Last week, The Chronicle of Higher Education reported that in 2010, the national average of American minority students at four-year colleges in the United States, was 27 percent.
"Students have countless collegiate options, and I believe we have done a good job of reaching out to high schools and community-based organizations to recruit an increasingly diverse pool of applicants," Maguire said. "We still have improvements to make, but I am confident that the path outlined in IC 20/20 will allow us to reach new heights of diversity and access."
Maguire said increasing the enrollment of historically underrepresented students was a goal of IC 20/20.
Since 2010, the college has been formulating a five-year diversity plan through workshops and programs.
Senior Sudie Ann Robinson, president of the Caribbean Students' Association, said the increase in ALANA students is a positive change, but said she worries about the retention rate.
"It is a wonderful feeling that I am not among the few ALANA students in the Honors Program or even the Leadership Scholars," she said. "The move to increasing racial diversity on the Ithaca College campus gives new perspective to the very meaning of diversity."
Kristy Zhen, co-president of the IC Asian-American Alliance, said she has not seen a significant increase at meetings.
"It's great that the numbers of admissions are increasing but it's also important to look at the retention rates," she said. "From my experience on this campus, I don't believe that our ALANA resources have increased."
Robinson said she believes the college could still improve in the number of ALANA students accepted each year, but acknowledges that is significantly better than when she was a freshman in 2008.
This year, members of the Caribbean Students' Association are trying to recruit members by supporting other groups on campus. The group has been collaborating more with other campus groups geared to fostering diversity, like the African-Latino society and PODER, a Latino culture club.
"By showing our support we meet other individuals and tell them about CSA," she said. "We are trying to increase our presence on and off campus so that everyone will know what we are about and that the organization is not just for Caribbean students but anyone who wants to learn about Caribbean culture."
Zhen said she hopes the larger classes of ALANA students will help the college be more accountable in accommodating those students.
"I hope it brings more support for  faculty of color and that professors on this campus are sensitive to and acknowledge the struggles that students of color may face," Zhen said. "I hope the school's diversity initiatives will actually be beneficial to the school and ALANA community."