The hot sun shone down on Butterfield Stadium today, mirroring the beaming faces of proud parents of the 1,170 undergraduate students and 20 graduate students present for Ithaca College's 117th Commencement ceremony.
After the processional opening, Provost Marisa Kelly awarded the honorary doctor of laws degree to Dr. C. William Schwab '68, a 20-year member of the board of trustees and professor of surgery at the University of Pennsylvania Medical School.
Schwab spoke of his time at Ithaca College amid the tumultuous changes of the 1960s, and he sees a parallel between past and present.
"Like the class of the 1960s, you are living through an epic time for Ithaca College," he said in regards to the changes taking place because of the IC 20/20 10-year strategic plan.
President Tom Rochon then introduced the guest speaker, Amy Kule '87, who is the executive producer of Macy's Thanksgiving Day Parade.
"Everybody loves a parade," Rochon said. "It's safe to say everyone here has watched the Macy's Thanksgiving Day Parade at least once."
The lighthearted tone continued when Kule began her speech, recounting her time as an undergraduate and making the graduates laugh with her relatable tales, like using her parents' "emergency only" credit card for bar tabs. Then, like at the Macy's parade, two blue star balloons painted with "Ithaca" came to life on either side of the stage.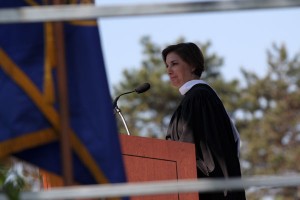 Kule spoke about the perspective she's gained since the day her parents dropped her off for her freshman year at the college. Initially, she wanted to major in film or theater, but she followed her parents' advice to take many liberal arts classes. Looking back, she said "bouncing around" from subject to subject as an undergraduate was much like her work now, where she utilizes a "hyperfocus on many areas of interest."
She ended her speech with some inspiration for graduates, telling them to never settle.
"Find your passion and stick with it," she said.
After Kule's speech came a burst of parade-like confetti, and the deans from each school announced that the students have completed their requirements and were ready to receive their degrees.
Rochon then introduced senior class president Jimmy Knowles, who asked graduates to think back on their time on campus. He spoke about how their perspectives have changed since orientation, such as the first time he spoke of heading back to Ithaca after a break as "going home."
"With an open mind, you've not only been able to change your perspective, but others'," he said of the experience of learning among a diverse student body.
Knowles spoke of how time and change influences perspective and that graduates should use their time wisely after leaving Ithaca.
"The world is changing around us," he said. "We have and will continue to inspire that change."
The class of 2012 did inspire change, as they set the record for the highest participation level among seniors who donated to the class gift. The 529 donors made up 38 percent of the senior class.
Class officers presented Rochon with the 2012 senior gift, which included a $25,000 fund to establish an emergency financial aid scholarship for students whose financial situation drastically changes while in college. Between the scholarship and various other allocations, the senior class raised a total of $31,382 for the gift.
Rochon thanked the graduates and spoke further on change and struggle happening quickly around them in the world, from failing companies to fallen dictators. Despite the uncertainty of the time, he said now is an amazing time to enter the world, especially as an "adept" graduate of the college.
"Things have never been more open for the insurgent outsider," he said. "And you are going to be ready."