Bright smiles, glittered caps and flashing cameras could be seen all over Butterfield Stadium today for the Ithaca College's 115th Commencement ceremony. More than 3,500 people filled the stands to show their support for the 400 graduates and 1,500 undergraduates of the Class of 2010.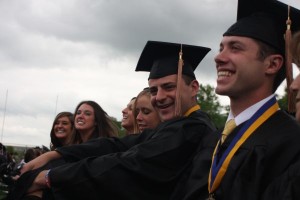 President Tom Rochon began the ceremony by introducing the guest speaker, C.C.H. Pounder '75, an actress who recently starred as Mo'at in the movie "Avatar." However, it wasn't Pounder's film and television roles that Rochon emphasized in his introduction. Pounder is a cofounder of the nonprofit organization Artists for a New South Africa and a board member of the African Millennium Foundation.
"Miss Pounder brings much more to this Commencement ceremony than just her celebrity," he said. "A distinguished alumna of our theater program, Miss Pounder is a strong proponent of nontraditional casting and encourages artists to pursue roles that tap into their greatest strengths regardless of race or gender."
Pounder thanked Rochon and began to explain to the Class of 2010 why they are so lucky to have been given educational opportunities.
"Some 880 million adults are illiterate in the world today," she said. "Add another 130 million children and you can see what you've received here today is one of the greatest desires of so many."
Pounder also told the audience that some African students must study for finals under streetlights because there is not enough electricity in their villages. Though these problems seem far away, she said, some are right outside their doors. Pounder said students could overcome these and other obstacles with a little bit of perseverance and determination.
"Moxy, courage and luck — you have to learn those on your own," she said. "There's no curriculum for that, but an education plus opportunity, now that's the pot at the end of a rainbow."
Pounder said it is important for graduates to travel and share their knowledge with less fortunate people, just as she did while on a democracy tour and during protest marches in South Africa during the late 1980s.
"There is so much an education can do," she said. "Thank you for completing this four or five or six year task. It will soar you up for the rest of your lives and take you places you can hardly imagine."
After Pounder's speech, the deans of each school continued the ceremony by telling Rochon that students had completed their requirements and were ready to receive their honors. Before Rochon accepted, senior class president Kylie Burnside spoke to her fellow classmates, reminding them of their dance-filled orientation days back in June 2006 and how far they've come since then.
Using three key words — people, places and passion — Burnside gave them her own interpretations specific to the Class of 2010's time at the college. Burnside mentioned the memorable Valentine's Day snowstorm of their freshman year, the inauguration of Barack Obama and the construction of the Park Center for Business and Sustainable Enterprise and the Peggy Ryan Williams Center. She also said each of those three words represents what experiences her and her classmates should take away from the college.
"When you leave here today, continue to fill your life with people who challenge you, make you better, bring you happiness and add more meaning to your life," she said. "Also remember to return the favor."
With that spirit, the remaining class officers, Feleg Tsegaye, director of marketing, Abby Brewer, vice president, Ian Turner, treasurer and Dave Seidorf, director of internal communication, joined Burnside on stage to present the senior class gift. The senior class raised $78,414 for a scholarship in memory of Andrea Morton '10, a classmate who passed away last year. The class officers said that $51,656 has been allocated to the scholarship in Morton's name. This year was the highest participation rate for the senior class gift, with 472 senior donors to the scholarship. Several alumni and families also made donations.
Rochon thanked the class officers and prepared the graduates for his acceptance of their honors. Rochon's speech also looked to the past, reminiscing about what the world was like when the Class of 2010 came to the college — George W. Bush was president of the United States, Peggy Williams was president of the college and stock prices were high. Despite all the political and economic changes, Rochon said, the senior class is graduating strong and prepared for the real world.
"You realized today that the questions you asked when you first began here were in fact far too timid," he said. "You wanted to know if you would make it, perhaps thinking of college as a kind of test that you needed pass, but you've done more than just make it, you've prospered, you've transformed."