The Unique Natural Area committee of Tompkins County has proposed two new pieces of land to be added to the list of 192 that already cover 15,000 acres across the county.
A Unique Natural Area is a site with outstanding environmental qualities. The committee chooses already established sites across the county to include in its inventory. Designation as a unique natural area does not change the way a piece of land is run. The land can be either privately owned or open for public use, but UNA designation does not mean that a privately owned piece of land will be open to the public.
Stephen Nicholson, chair of the Environmental Management Council, said that a piece of land should be one of the best examples of these characteristics in Tompkins County.
"It's not just that it's open space. It has to have these characteristics and be relatively rare in the county," he said.
UNA site 154 is called the South Hill Swamp and is located on the South border of the Ithaca College campus.  It runs behind the Kostrinsky Field for softball and goes over to the Circle Apartments, Nicholson said. He said he hopes the UNA inventory is useful to the community.
"The purpose is to inform the public and governments about how unique these acres are in the county and that they deserve special consideration," he said.
Hawthorn Orchard, one of the proposed new natural areas, was brought to the attention of the Unique Natural Area committee by the birding community, which recognized how many different species of birds are on the land.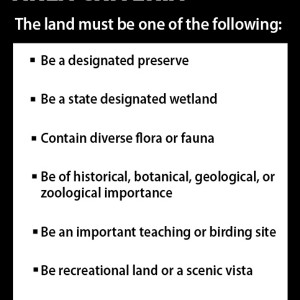 One of the sites being proposed is an orchard located south of Mitchell Street behind the Cornell University tennis and equestrian center. According to local birders, it is a valuable birding area. It covers 50 acres in the town and City of Ithaca, including some Cornell University property. It is partially open to the public, with a recreational trail running through the middle.
The second is Salt Road Fen, which covers 74 acres in the Town of Groton on the corner of Old Stage Road and Salt Road. It is being considered because of its rare and scarce plant communities and its rich fen habitat.
The land was presented to the public at an informal hearing Oct. 16, and the Environmental Management Council will vote whether they want to include the new lands in the inventory during their November meeting.
Scott Doyle '98 is the senior planner of the Tompkins County Planning Department. He said the UNA inventory is an information tool at its core.
"They are helpful in situations for evaluating potential protection or if there's a development project that had some sort of impact on these areas," Doyle said. "It helps us get a better sense, from a planning perspective, for what's going on in those areas and plan accordingly to reduce the impact on a particular distinct plant or wildlife."
The Unique Natural Lands Inventory is a document that organizers aim to publish every 10 years. It began in 1973 and was most recently published in 2000. It is available to residents at any library in Tompkins County.
Chris Tessaglia-Hymes, a field application engineer in the bioacoustics research program at the Cornell Lab of Ornithology, said he fought to gain Hawthorn Orchard the recognition it needed to become a unique natural area.
Though being a unique natural area does not provide any legal protection, he said being included in the inventory may provide a layer of protection against future development of the area.
Many UNAs are located on private property and remain open only to the landowner.
"There's no regulations. If a landowner wants to clear cut his forest or dam up his bog, we can't stop him from doing it, but our hope is that, given the information, people will make wise choices and choose to develop somewhere else," Nicholson said. "Different organizations having a vested interest in an area because of its recognized importance gives that area a more solid foundation of protection."
There are two ways that a piece of land can be put up for consideration to become a UNA, according to Nicholson. Either a member of the public alerts them to the land, or a contractor hired by the Environmental Management Council finds it.
Nicholson said the Unique Natural Area inventory is specific to Tompkins County.
"Other environmental management councils across the state have created inventories of natural resources, but we're the only county that has had this project where we have specifically designated 192 areas in the county."