Last week, members of the Ithaca College community gathered for the first time to discuss the task of writing the "rough" final draft of the IC20/20 document as participants of the IC20/20 Steering Committee.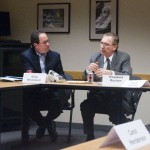 Eight task forces have been working to create their proposals for each section of the IC20/20 draft.
The IC20/20 Steering Committee will serve as the central body to mesh those proposals into one final document, which will head to the President's Council for finalization in the last week of April.
Interim Provost Gregory Woodward created the IC20/20 Steering Committee to ease communication with each task force and collate their recommendations into one strategic plan.
Woodward said the separate work of the eight IC20/20 task forces and additional subcommittees poses a problem of losing the cohesive IC20/20 vision.
"The task forces and committees are all doing their work kind of in a vacuum and doing it in different ways, and we've got to find a common language, and a common way of reporting out all their work so that it can create one holistic document," he said.
Woodward said the committee members represent all experiential levels at the college.
Each member has been assigned as a liaison for one task force or standing committee. Their goal is to become experts in that group, then present at upcoming committee meetings so members can then identify overlapping work between the task forces.
Three students, including senior and Student Government Association President Kevin Fish, serve on the committee. Fish said he likes being viewed as an equal by administrators.
"It's giving students the opportunity to be a very influential part in this decision process," he said.
Carol Henderson, associate provost for academic policy and administration and a member of the committee, said overlap is inevitable. For example, both the committee working on faculty promotion and tenure as well as the faculty development group are discussing mentoring.
"We'll find a way to structure the final version of it so that there aren't quite as many overlaps," she said. "It'll be easier once we see what the different committees are recommending because they have a pretty broad span of things they're looking at now."
Virginia Mansfield-Richardson, associate dean of the Roy H. Park School of Communications and interim chair of the journalism department, said she is happy to do the work, which includes making a rough template to frame their report.
"It will allow me an opportunity to really just completely immerse myself in it from top to bottom and to really fully understand what is going on at the college," she said.
Woodward said once they have received the task forces' proposals, the challenge will be writing the final draft in such a short time span.
The Steering Committee will present the document to the community through a series of meetings. A faculty meeting will take place from noon to 3 p.m. April 17. There will also be an open staff meeting from noon to 1 p.m. and an open student meeting from 7 to 8:30 p.m. April 19.
The committee will also create a time line outlining the implementation of the IC20/20 initiatives as well as a plan of how to carry it out over the next nine years.
Fish said he wants to stress the importance of gathering student feedback during this process of finalizing the IC20/20 document because there are certain aspects of the proposal administrators are detached from.
"[Students] know their experience better than the faculty and administration do, so their input is much more valuable," he said. "If we have a group of administrators talking about what the residential experience should be like and they've never actually lived in IC's residence halls, then they won't know what's best for the students."
To share thoughts and suggestions for the final IC20/20 document, Fish said to reach out to him and the other two students on the committee, or visit the IC20/20 myHome blog.
Woodward said watching the work done on IC20/20 is inspiring.
"There's probably 200 people on this campus working really hard on IC20/20 right now," Woodward said. "What a cool thing that we have the whole college rethinking what it means to do student learning in the best possible way."