Two Ithaca College students have been selected as one of the six finalist groups in the Case Competition, a national communications contest.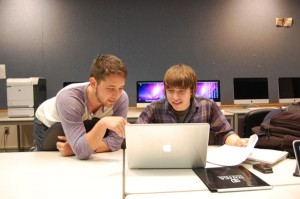 Sophomore Ryan Bince, a speech communications major, and senior Alec Mitchell, a communication management and design major, created two strategic media plans based on data for two hypothetical election campaigns for a local government.
More than 200 groups of college students nationally competed for the final six spots in the competition, which is hosted by the Washington Media Scholars foundation.
The finalists will receive an all-expenses paid trip to Washington, D.C., from June 2–8 to present their final projects in front of major media companies and vie for up to $3,000 per person in scholarship money. Mitchell said as finalists, they will also have the chance to meet with representatives from hundreds of media companies in Washington.
"It's basically the ultimate networking week," Mitchell said. "You meet all sorts of political strategists. Google comes, Twitter comes and you tour NBC 4. You go through a million companies."
Bince and Mitchell met through the college's Outdoor Adventure Learning Community. Bince had taken two classes with the group's faculty sponsor, Donathan Brown, a Communications Studies professor.
"This work dealt with a lot of campaign issues similar to politics, demographic issues, questions over funding, questions over ad creation, placement, development and all that stuff," Brown said. "In my mind, as well as Ryan's, it was just a natural fit to talk it over and ask for direction and advice."
The first round of the project involved creating funding for an art conglomerate in a fictional town. Participants had to split a $2.5 million budget between advertising in radio, television, film and other media. Mitchell and Bince said they submitted their first entry March 19.
"The first entry was the really simple one," Mitchell said. "It was a one-page Excel form we had to fill out and a two-page write-up."
Bince said when they made it to the second round, reserved for the top 30 teams, they realized it required much more work. They were given the same art conglomerate, but this time their money had to go toward garnering fictional voters who could give the conglomerate an extra $10 million to work with — or give it to a transportation association. Bince said they spent at least 50 hours each drafting this round of the competition.
"It required a 10-page rationale, a few other odd deliverables, and we made Excel charts to show what we were doing," he said.
Bince said they ended up doing most of the work over spring break. Because Bince lives in California, he spent his break on the East Coast to work on the project.
"I stayed in like nine different cities," he said. "As we're travelling around, everywhere we go, we're just like, 'Okay, we need to set aside these five or six hours to work on it.'"
Mitchell said they each had to learn new things as they went along with their project.
"A lot of it is just logical thinking," he said. "It's not something you learn in classes as much, being able to articulate your thoughts very well, explain things very well."
The finalists were announced a few weeks ago by a phone call from the founder of the WMS foundation. Mitchell and Bince said they were astonished and excited after hearing the news.
"I went out into the fishbowl, and I stood on top of the little pillars and I did a jig," Bince said. "I was really excited about it, and I immediately ran up to Donathan's office and busted in on a meeting and was like 'Donathan! We made it into the competition!'"