The Ithaca Youth Bureau, an organization that coordinates recreation and youth development programs, received a federal grant of nearly $170,000 in August to support their College Discovery Program, a project that aims to spark interest in higher education within the city's high school population.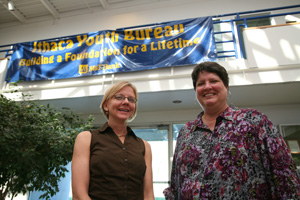 Linda Cimakasky Barr, program coordinator of the College Discovery Program, helped write the grant, which the bureau submitted in May. She said the U.S. Department of Education notified the group about the grant's approval Aug. 22.
"Part of me was feeling optimistic when we sent it off, the other part thought, well, there's going to be hundreds, maybe thousands of people trying to get this federal money," she said. "So I was really thrilled."
Ithaca College Senior Greg Ryan heard about the College Discovery Program when he called IYB to ask about tutoring students through the program JUMP, which no longer exists. They told him about the College Discovery Program, and staring next week he will tutor a student once a week and will continue until the end of the semester.
"I really like the fact that it follows students all the way from fifth grade through the first year of college," he said.
Though IYB, which serves more than 5,000 children, did not initially receive the grant, it started the College Discovery Program in 2004. The teachers and principals from Beverly J. Martin and Enfield elementary schools chose 12 fifth grade students from low-income families who showed academic promise. Each student, now in the eighth grade, is paired with a mentor who plays games with the student and helps with his or her homework.
Without funding from the government, the College Discovery Program was complicated and lacked communication, Friedeborn said.
"It wasn't very efficient because we were spending a great deal of time on meeting to figure out what everybody was supposed to be doing," Friedeborn said. With the grant, the program can afford to hire full-time staff to work with the program, which will greatly reduce meeting time.
Karen Freideborn, the youth development division coordinator of IYB, said the program now plans to track these children through their first year of college by offering programs, support and activities to encourage their success. The grant money is intended to last three years and will now fund the program for
50 students, including 13 children from a similar program that IYB will include in the College Discovery Program. These new students will be identified by April or May and will begin with the summer program after school lets out.
Junior Jessica Elwell, co-president of IC Bigs, a student organization that works with IYB by organizing Saturday activities for children, said the money will enhance IYB's programs.
"To make [programs] beneficial for the kids, they need the supplies, and supplies and provisions for everything are really costly," Elwell said.
IYB also organizes Peer Advocacy and Leadership groups that encourage the students to support each other, which Friedeborn said is a large part of a student's academic success.
"A lot of times kids are capable of doing the work in the honors classes, but if they feel really socially isolated, like none of their friends are in their classes, they'll drop down because of that," she said.
Friedeborn said students in the College Discovery Program visit colleges every year so they can experience living in dorms and eating in dining halls. She said these activities will help make college a part of their lifelong dreams.
"The kids aren't really thinking at all about college then," she said. "We do it so they can really visualize themselves on college campuses."
IYB has also sponsored a summer program, which was held at Cornell last year. The students attend a day camp to get a jump start on the year's curriculum through hands-on activities, most of which were science related.
Cimakasky Barr said the grant officially started Monday, but that they have not been in contact with the government yet to coordinate how the money will be divided. Cimakasky Barr said a member of Bureau will be calling their contact in Washington, D.C., tomorrow to get details on what is being cut.
Friedeborn said the IYB is looking for other ways to keep the program going, such as corporate sponsorship and individual donors so they will not have to rely on grants to fund projects in the future.
Friedeborn said the long-term goal of the program is to achieve more equity in the schools and encourage success for all students.
"We'll know we succeeded when there's no difference in terms of the demographics of the kids who are in the lowest tracks and the highest tracks," Friedeborn said.