This upcoming fall could be a disappointing one for some of Ithaca's beer lovers.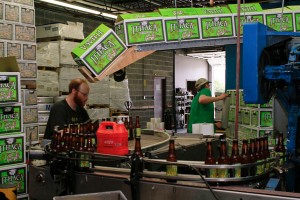 Ithaca Brew Fest, one of Ithaca's main tourist attractions at the end of the summer, will not be held this year. The festival, which usually occurs during Labor Day weekend in September, will take a year off because of the restructuring of one of its chief organizers, Ithaca Beer Company.
The festival has been canceled so Ithaca Beer can focus on the construction of its new brewery, according to a press release posted on Brew Fest's website last month. Allison Graffin, Ithaca Beer's marketing director, said the company — which opened the doors of its current brewery in 1998 — needs to concentrate all of its resources on its newest project.
"We are getting ready to build this brand new brewery near our current location," she said, "It's basically all hands on deck to get the brewery going, so we're focusing all our efforts."
Ithaca Beer's prize-winning beer and other products are distributed as far south as Ohio, and the new plant, which will be built on purchased land near the current property, will allow the company to produce its product in much greater quantities. Graffin said they do not have a definite date for completion yet because the construction process is still in its planning stage.
Brew Fest has been held annually on Labor Day Weekend at Stewart Park since it was created in September 2007. Previous sponsors of the event have included Wegmans Grocery Store, Cayuga Radio Group and WVBR 93.5 FM. In the past, Ithaca Beer has donated some of the proceeds to the New York State Brewers Association and renovation efforts for the boat house and Stewart Park's grounds.
Last year's festival drew a large crowd to Stewart Park, where more than 45 brewers sold more than 100 craft beers, including local and gluten-free varieties.
Graffin said craft beer fans with ages ranging from 21 to 60 came from all around the Northeastern region last year.
"We got about 3,000 people from all over New York and basically all the Northeastern states," she said. "But it's still mostly people from the Ithaca area, Syracuse, out to Rochester and Buffalo."
For Ithaca College students over 21, the cancellation has been met with much disappointment.
Senior Morgan Goldstein turned 21 years old last April and was unable to attend last year's event. This would have been her first festival experience.
"I have never been to Brew Fest, but I've been to Apple Fest and Chili Fest," she said. "I think those are really important events in Ithaca. They bring the whole community together as well as people from outside. From what I've seen and heard, I think those are really positive events. Brew Fest is along the same lines as those."
Goldstein also said the city should anticipate a decrease in tourist numbers this summer because the event often draws many people from out of the area.
"I think it's unfortunate that it was canceled because it's such a good communal event and such a good tourism event, especially because Ithaca needs tourism," she said.
Senior Sarah Bratt said she was upset when she heard of the event's cancellation because she was looking forward to attending her first Brew Fest with friends.
"I would have gone, and I would have brought a lot of friends to come with me," she said. "That's commerce — people drinking and buying beer."
Bratt, a fan of Ithaca's microbrewery scene, said the company's decision to scrap the event seems counterproductive because she believes the festival would have been a great opportunity for Ithaca Beer to promote its new brewery. She said the cancellation is also depriving the area — and Bratt herself — of enjoying quality beer.
"If you give beer: happiness," she said. "If you take away beer: anger."
At this point, Graffin said, the company is unsure of the festival's future.
"We don't have an answer for that yet," she said. "I don't want to say anything conclusive, but since we're just trying to get through opening the new brewery and that's so time-consuming and exhausting that we're just saying, we haven't even looked that far ahead."
However, Graffin said people should not take this year's cancellation as the official end of Brew Fest.
"We're going to revisit it," she said. "It's not an answer yes or no at this point."
For more information about Brew Fest's hiatus and to browse photos from past festivals, visit www.ithacabrewfest.com.