Aliens, vampires, robots and girls will be the subject of Ithaca College's first science fiction conference, "Pippi to Ripley," on Saturday.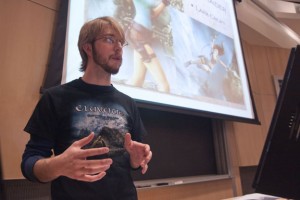 Katharine Kittredge, professor of English and women's studies, said the one-day interdisciplinary conference will examine everything from females in fairy tales to comic books and young adult novels to vampires and video games.
Research papers from 40 different presenters from across the nation, including 13 students who are taking Kittredge's course, Advanced Studies in Feminine Science Fiction, will be showcased at the conference.
Kittredge said there are 100 people registered for the conference, but they are expecting a large number of walk-ins.
Kittredge said conference will hold five sessions from 8:30 a.m. to 5:30 p.m. Each session will have the option of attending the discussion of one of two different topics, which include television and film heroines, teen sexuality in young adult novels and comics. At 7 p.m. the 1984 Japanese anime film "Nausicaa of the Valley of the Wind" will be screened in Textor Hall 102.
Marleen Barr, professor of communication and media studies at Fordham University in New York City, will be the keynote speaker at the event. Barr is one of the "founding mothers" of feminist science fiction, Kittredge said.
The idea of holding the conference, Kittredge said, spurred from seeing  connections between science fiction and women studies.
The name of the conference comes from two famous fictional heroines, Pippi Longstocking, the red-headed heroine created by Astrid Lindgren in the 1940s, and the character Ellen Ripley, who appeared in the science fiction film "Alien" in 1979.
Though the subject may be similar to the famous Comic-Con, Pippi to Ripley has an academic focus. The conference takes the sci-fi world of movies like "Kick-Ass" and "Coraline" into an academic circuit.
Seniors Giovanni Colantonio and Adam Ellerson, and junior Ryan Ende are coordinating the event along with Kittredge. The four began brainstorming the project last spring and continued planning throughout summer.
The conference will have five different sessions that range from research paper presentations to a workshop on publishing as a young adult, which is specifically directed to high school students.
Colantonio said the event also invites high school students who feel like they are part of a geek community.
"I am very connected to 'geek culture' and the geek community and I've always felt that way, and I want to push that further," Colantonio said.
Ende said they are waiting to see the conference results and if it has potential to become an annual event.
"It would be something I would consider coming back for because it is something that I can say I helped start … to get people involved and show that there is more to science fiction than what's out there," he said.
Registration will be held from 7:30 a.m. to 7 p.m. in Textor Hall.