In a planned crackdown on illegal street crossings, the Cornell University Police Department issued 143 tickets across campus to students and community members within two days last week.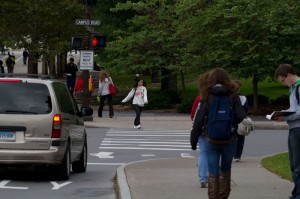 The New York state Selective Traffic Enforcement Program provided Cornell Police officials with a $9,600 grant to increase enforcements for the crackdown. Ticketing occurred from 10:30 a.m. to 1 p.m. Sept. 27 and 28 between Campus Road and College Avenue on Cornell's lower campus.
Kathy Zoner, chief of the Cornell University Police Department, said illegal street crossing-related injuries were the reason for the campaign.
"Pedestrian crossing violations are very common," Zoner said. "They are also the most dangerous violations involving injuries that occur on campus."
Sergeant Anthony Tostanoski said that between 2009 and 2010, Cornell Police reported an increase from nine to 18 personal injury accidents on campus. So far this year, the department has reported nine.
Tostanoski, who was on the scene of the ticketing for the majority of the two-and-a-half hour time periods, said only two of the 143 tickets issued were a result of a jaywalking violation.
"The majority of the tickets issued were for crossing the street while disobeying a steady red crossing signal, which is the equivalent to running a red light in an automobile," Tostanoski said.
Cornell sophomore Jacob Arluck received a ticket for crossing the street despite a "do not walk" signal and said Cornell should have sent a campus-wide email to warn students of the upcoming campaign.
Arluck said he did not notice any significant street-crossing behavior changes among students after the two-day period. He said he believed the crackdown was an attempt by Cornell to lessen the amount of pedestrian accidents on campus but could not foresee it having lasting effects.
"Ticketing jaywalkers who actually endanger themselves or others makes perfect sense," Arluck said. "But actively going after the hundreds of student jaywalkers who cross safely and attentively every day seems like a waste of Cornell Police's time and resources."
Tostanoski said Cornell does not earn a profit from the funds generated when enforcing state traffic laws, as the fine money instead goes to the city. He said the Ithaca City Court will determine the penalties ticketed students will face on a case-by-case basis, and he could not provide an estimate for the student fines.
Zoner said Cornell Police have carried out campaigns against illegal street crossings for the last two years. On Sept. 30, 2010, Cornell Police issued 39 tickets for illegal street crossing amid heavy rainfall, according to Tostanoski.
In the school weeks prior to Sept. 27, Cornell Police officials disseminated about 568 warnings to students. More than 950 educational flyers were handed out to violating pedestrians at Cornell's major intersections to raise awareness about crossing the street properly. The university publicized the campaign through press releases and social media outlets.
Tostanoski said he hopes the campaign will have lasting effects on pedestrian behavior.
"I hope the community members who were ticketed have learned from this experience," Tostanoski said.
Tostanoski said he hopes to use student groups to raise awareness more effectively before another similar effort next year. Thus far, he said he has only received two emails with concerns or suggestions to advance the jaywalking campaign.
"I would like to improve on this campaign and make the campus a safer place to commute," he said. "We would take voluntary compliance over enforcement any day of the week."