Next semester, Ithaca College will be one of 12 colleges to receive a workshop from Elect Her, a group that works to train women to become more involved in politics.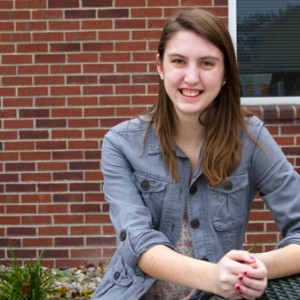 Junior Courtney Brown, vice president of communications for the Student Government Association, applied to the American Association of University Women on behalf of the college to win the opportunity to bring the workshop to campus.
Staff Writer Megan Devlin interviewed Brown about the workshop she will lead in the spring and why it's important for women to be involved in politics.
Megan Devlin: How did you first discover the Elect Her – Campus Women Win training?
Courtney Brown: I went to the National Conference of Women Student Leaders this summer. It was sponsored by the American Association of University Women. While I was at the conference I went to a session called "Elect Her"… They went over statistics about women in politics and how there weren't that many. They cited that most women who are in politics also did student government when they were in college. It's a great pipeline for them to get into the field.
MD: How many women are currently involved with SGA?
CB: Currently, 33 percent of the senate is women, and 33 percent of the executive board is also women. There hasn't been a female SGA president in the last 8 years. Interestingly, I had applied for this training right before the freshman senators campaigned. But all of the Class of 2016 senators are male.
MD: What would this training bring to the college?
CB: It would be great to have more women involved. I also thought that it would give them more confidence to speak out at meetings. I thought that having this training would give them confidence in their own issues and help them being elected into office to let people know what they have to say is important.
MD: What will the workshop specifically focus on?
CB: It will start with the statistics, describing the current situation in politics and what it's like in colleges across the nation. Then it will feature a few speakers. We'll have a woman who's in office already… We'll also have a panel of student government representatives. My plan is to have a school senator, class senator and an executive board member, that way participants have the opportunity to see all the different positions. Each one has a different campaign style, because running for your school is a lot different than running for your class, because you have different constituencies to reach. We'll also have a woman communications professional speak about communication and messaging during campaigns, which is really important. They'll also have the opportunity to do workshops to figure out what issues are most important to them and have hands-on experience in campaigning.
MD: What do you hope participants gain from the training?
CB: I'd like the girls to have the confidence to run for a student government position, because, as I said, it was something that has really shaped my college experience. And that they're not afraid to take a stance on important issues on campus, and that they feel like they have a community of support to turn to and help make their goals come true.