Sometimes you get out of life what you put into it.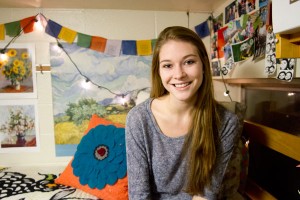 In freshman Makenzie Holmsborg's case, it came in the form of strong connections, recognition for her leadership  — and a $5,000 check.
In February, Holmsborg was awarded a grant for her community service efforts through the TruFit Good Citizen Scholarship, an award from Citizens Bank that recognizes students making a difference in their community. Holmsborg said she plans to put the money toward her passion for traveling and hopes to study abroad in Florence, Italy, in the spring of her sophomore year.
From serving meals at homeless shelters to creating dog collars for the American Society for the Prevention of Cruelty to Animals, Holmsborg has consistently been involved in her community.
The service skills that made Holmsborg stand out to the scholarship committee developed long before college. She spent her childhood getting involved with Girl Scouts and her church's youth group, which sparked her passion for volunteering.
"I've worked with a lot of people who are homeless and hungry, and they're just so thankful for the smallest things," she said. "For getting a meal, a bag of groceries, a shirt. They're not caring that they might be hungry tomorrow. They're living in the present."
In seventh grade, Holmsborg used what she learned from her involvement with youth group and Girl Scouts and opened her own business, Krafty Kidz, an arts camp designed for girls with disabilities.
Her love for making messes and building something out of nothing has made crafting a constant passion through her life. In her spare time, she said, she loves to create paper cranes for herself and her friends.
"I love origami," she said. "If [my friends] have a test or something, I give them a crane. They know if they get a crane, it's from me."
What started as a one-day program turned into an annual, week-long summer camp. Hiring employees and keeping track of inventory can be tiresome, she said, but the week of the camp is always a great time.
"These girls are elementary and middle school age, so it really opens their minds up to a lot of philanthropy and volunteerism — just giving back to their community," Holmsborg said.
In addition to helping kids with disabilities, Holmsborg is also involved in the Ithaca community. She balances her involvement with IC for Invisible Children, multiple Special Olympics groups and her responsibilities as a student volunteer at Longview, a residential community for older adults.
Bree Nash, volunteer coordinator at Longview, said she is always impressed with Holmsborg's willingness to assist residents with everyday tasks that help foster their independence.
"She's very enthusiastic working with older adults," Nash said. "Caring, respectful and curious, too, about learning where they come from."
Holmsborg is an occupational science/therapy major and deaf studies minor. While her zeal for helping others played into the selection of her major, she said her biggest influence came from her babysitting job.
Back home, Holmsborg works with an autistic boy named Trevor. She has been his babysitter for the past four years and helped him train for the Special Olympics.
"I love being with him," she said. "Babysitting Trevor opened my eyes to kids with special needs, and I got to see what his occupational therapist did with him."
Freshman Allison Hausmann, her close friend and fellow occupational science/therapy major, said Holmsborg is constantly thinking about others, even outside of her babysitting job and community service projects.
"She's really sweet — really a sweetheart," Hausmann said. "We'll be in the dining hall and see people sitting by themselves, and she goes, 'We should go eat with them!'"
Hausmann said when Holmsborg is not volunteering, she brings her caring personality to the field and the court, participating in club sports like softball and volleyball with their friends.
Holmsborg admits that she'd rather encourage her teammates than be a competitive player.
"I'm like a big cheerleader, which is kind of embarrassing because I'm a player," she said. "They laugh because I'm always like, 'Great job!'"
Though her life may seem hectic, she tries not to get too stressed by finding relaxation through crafting and remembering lessons she learns from her campers.
"If you spend time worrying about every little thing, you're just going to drive yourself crazy," she said. "The kids appreciate the small things in life, and that's what I try to live by."