It's his inherent nature to think outside the box that brought senior Luke Elmers to where he is today.
"Creativity makes me tick," Elmers said. "I've always been a creatively driven person. I'm really inspired by fresh creative ideas, and that's sort of just been my mantra."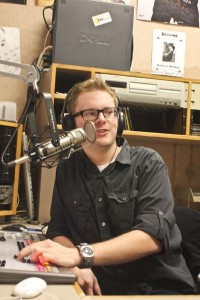 Elmers, an integrated marketing communications major, once dreamed of being a magician, an actor and a filmmaker before deciding that advertising was the best fit for him.
Elmers said his family has always provided a support system that helped guide him in the right direction.
Video
Senior Luke Elmers hosts his radio show on VIC radio
"My family has always been so endlessly encouraging and supportive of anything I wanted to do no matter what it was," he said. "They were so good at finding my competencies and my strengths and my specific talents that I had and pointing those out to me and helping nurture and develop those needs saying, 'Hey, you're pretty good at this. You should look into doing this or that.'"
While Elmers said his family has helped him find his niches, Haley Elmers, Elmers' sister, said he has done the same for her. Haley, a junior at Baylor University, is also pursuing a career in marketing. She said even though they aren't studying exactly the same thing, Elmers has influenced her decision to go into the field.
"Luke's always been a huge role model to me in everything, and it's been really nice having an older brother who has so much integrity," she said. "I felt like a lot of times that I was totally privileged to follow along in his footsteps rather than feeling like I was covered in his shadow."
Elmers, a Park Scholar from Boulder, Colo., said despite being far from his family, they have remained close.
"I love my family, and I'm very dedicated to my family," he said. "Part of the reason that coming to Ithaca didn't seem quite as far away was that Ithaca seems very, very similar to Boulder. It's like a much smaller scale version of Boulder. There's something just walking around town here that feels like home to me."
Even away from home, the child in Elmers often comes out. Whether he's juggling, making balloon animals or solving a rubix cube in less than five minutes, Elmers is constantly at play.
Senior Seth Palmer, Elmers' roommate, said at the Family Carnival this year, Elmers made balloon animals for children. He said the most impressive were a crocodile and a bike.
While Elmers' out-of-the-ordinary skills often impress people, Palmer said Elmers' style of glasses and sweater vests is what he's most known for.
"I feel like that says a lot about his personality because not a ton of people around here can pull that off — be geeky but cool at the same time," Palmer said.
Elmers and Palmer met as freshmen through the Park Scholar program, but Palmer said what solidified their friendship was their background in theater.
"We were driving around town one night in his car, and he flipped on his CD player and the musical 'Wicked' was in there," Palmer said. "We were flipping through the tracks trying to figure out what to listen to and one of the tracks came on that had a duet, and we both started singing along to it. We both did the harmony parts we were supposed to and started singing equal harmony."
Haley said singing is just one of Elmers' many hidden talents. She shared a similar experience when she and her brother decided to re-enact "Mockingbird" from "Dumb and Dumber" when they were younger.
Elmers carries this quirkiness in and out of the classroom and considers himself a geek when it comes to designing.
"I watched this entire documentary about the font Helvetica, and it's probably one of my favorite documentaries I've ever seen," he said. "It's pretty awful, but my IMC friends appreciate it."
Elmers' favorite font is Helvetica, but he strongly dislikes Papyrus.
"This city is riddled with Papyrus," he said. "It's like a plague — it needs to go away."
Scott Hamula, associate professor of strategic communication, who has known Elmers since his freshman year, said he has always showed enthusiasm in his field. Hamula works with Elmers in Ad Lab, where Elmers is the director of the brand activation department.
"It's as if he had this portfolio that he wanted to start filling with knowledge and experience, and every year he's been building upon that," Hamula said.
Outside the classroom, Elmers is heavily involved on campus and manages to fill just about every minute of his free time. Last year he worked for the Student Government Association as vice president of communications and Park Dean's Host. Currently he is working with SGA to maintain its Web site.
"Whatever he does, he's always going to keep giving back," Palmer said. "He's always going to keep people smiling because that's what he's always done as long as I've known him, and I don't expect him to change anything."