Outdoor Adventure Leadership majors are taking a stand against possible changes they believe could drastically impact their experience as OAL majors at the college.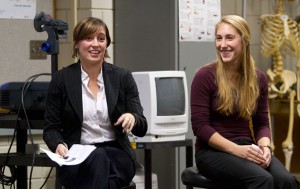 Senior OAL majors Laura Kathrein and Kelsey McCabe said they were initially notified that the college was planning to cancel their semester immersion program entirely earlier in October.
Kathrein and McCabe then heard that the college actually planned to move the immersion program from Washington state to the Adirondacks. They organized the OAL Educational Symposium to educate students, faculty and administration about their major and why they believed altering the immersion program would negatively affect their education.
McCabe said the Washington program exposes students to an entirely new environment, but OAL majors already have four years to explore the Adirondacks, which, she said, are easily accessible to students on the weekends.
"Washington has a different culture than we do in New York or in New England, so it was really a study abroad experience in itself, even though it was within the United States," McCabe said.
Last Thursday, OAL students gave an informational presentation to their peers, faculty, John Sigg, dean of Health Science and Human Performance, and Assistant Dean Margaret Arnold.
"We were planning to basically just show the administration how close we as a major are, to show what we really are all about and how interdisciplinary our curriculum is," Kathrein said.
Immersion is a semester-long program for junior OAL majors and minors. Students spend their spring semester in Washington kayaking the Puget Sound, rock climbing and taking courses in expedition planning, risk management and land-use ethics. Students are also eligible for a nationally accredited outdoor leader certification from the Wilderness Education Association and can become certified in wilderness medicine.
John Weber, assistant professor and chair of the recreation and leisure studies department, said the department has not made any final decisions on the program and is in the process of discussion and review. He said the students' reactions are mainly based on speculations.
"This is a curriculum issue," Weber said. "Just like all of the curriculum issues in all of our majors, we're always looking at this and we're always discussing this. That's really all that is at this time."
Sigg said curricula are often being reviewed and this was the only motivation to discuss possible changes to the Outdoor Adventure Leadership and Immersion Program.
"We encourage all programs to look at their curriculum regularly and see, 'Are we doing what's best for the students? What's best for the department and the program? And also what's best for the school and the college?'" he said. "That's an ongoing process. It just happens that right now, I've asked them to look at the Outdoor Adventure Leadership Program."
Kathrein and McCabe said the interdisciplinary curriculum and leadership skills they gain in OAL and the immersion program represent the college's core value in IC 20/20 of providing integrative learning and a global education for the students.
"We're not just rock climbers in college, we're not kayakers," Kathrein said. "We are educated not only in those hard skills, but we're educated in techniques and theories on how to facilitate wilderness experiences that allow growth and development for your participants."
OAL students also presented a change proposed by their adviser Chris Pelchat to their current program. Students would go on one semester-long, faculty-planned excursion and then plan a second trip on their own. This would become the "dual immersion program."
Junior Emily McCune said without Washington immersion, the original integrity of the program will not remain intact.
"We have to trust that our school is going to do what's in our best interest and listen to what we want and take our opinions into consideration in making any decisions for the major," she said.