Ithaca College students who live in Terraces 3, 8, 9, 11 and 12 faced an unfamiliar challenge the past two weekends as they attempted to enter their dorms.
The card readers, which let students into the residence halls with their student identification cards, have been either damaged or torn off completely, Public Safety Investigator Tom Dunn said.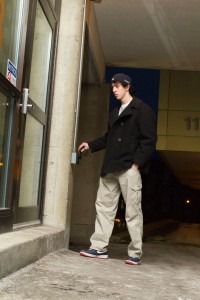 Dunn said public safety officials are still investigating the ongoing cases of vandalism. A total of nine card readers have been damaged so far, and appears to be limited to the Terraces area, he said. No reports of damage to other dorms on campus have been filed.
"Pretty much all we can do at this point is ask the residence directors to advise the resident assistants to keep an eye out when they do rounds," Katie Wright, residential facilities Operations specialist in the Office of Residential Life.
Freshman Anjali Patel, who lives in Terrace 3, said the broken card readers make it inconvenient for students to enter the dorm.
"It's a pain, because I have to walk to the other side of the building since my room is right above the broken door," Patel said. "It really stinks, because now I have to go out of my way to get to my room and we don't know who did the vandalism or when it's going to be fixed."