It took only 15 minutes for him to confirm, and in another 15 minutes Twitter was ablaze with reactions to the news that David Boreanaz '91 would be the Class of 2013's commencement speaker.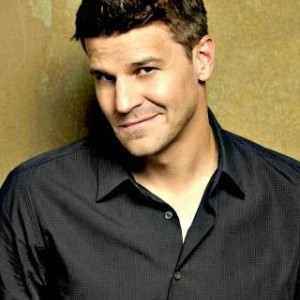 Returning to campus for the first time since his graduation, Boreanaz tweeted: "Honored to be giving the commencement speech to the class of 2013 @ithacacollege" and later, "Looking forward to celebrating with the class of 2013 @ithacacollege this year! It's gonna be a blast! Drinks on the house!"
The actor known for "Bones" and his role as Angel in "Buffy the Vampire Slayer," wasn't on the list of possible speakers provided by the Division of Institutional Advancement for the senior cabinet to choose from. However, Rachel Heiss, senior class president, said she asked anyway.
"I'm not a huge fan of the process of us getting a list from Institutional Advancement, I think that's more to guide the conversation," Heiss said. "So I had asked if it was possible to also seek alumni who weren't on the list."
When Heiss suggested adding his name to the list of potentials, she said the rest of the cabinet was also excited by the idea.
"Being that he's also a fairly notable alum and his contributions not only to the Park School of Communications but to the college in general, I felt like he would be a good representation of an alum who's really made strides after college," Heiss said.
Diane Gayeski, dean of the Roy H. Park School of Communications, said because she had been in contact with him before, when the senior class cabinet made their choice she reached out to see if he would be available.
"It all happened very quickly. I called him [Thursday] in the morning and told him that he was selected, and he said he just needed a little while to check on his schedule," Gayeski said. "I expected that it would be a week or two until he could confirm, and within 15 minutes he called back and said that it was confirmed."
Boreanaz said when Gayeski contacted him, he didn't actually understand the magnitude of the commitment because they had been trying to schedule a visit, during which he would lecture and offer workshops.
"Well she texted me to call her because she had a big invitation, and I didn't quite put two and two together because I thought it was just an invitation to come talk to students, which we had been trying to plan for about a year," Boreanaz said. "So when she asked me to partake in it, I was a bit like 'Wow, that's huge.' Then I don't really remember much about it, I just hung up and remember running to my wife to tell her that [the students] want me to be the commencement speaker for the Class of 2013."
Even after he called back to confirm, Boreanaz said it took a minute to realize that he would be speaking to all of the Class of 2013 rather than just communications students.
"I didn't quite get the whole gist of it, I thought I was just speaking to the students from the Park School," Boreanaz said. "But it's all of you. So I took a couple of deep breaths in and hunkered down for the numerous amounts of nights that I will have driving my wife crazy trying to figure out what I'm going to say."
Boreanaz spoke fondly of his time at Ithaca, noting a freshman year major change from television to film. He said seniors should really take the time to appreciate all that Ithaca and the college have to offer, and joked about his second semester senior year when he took only one class, on Wednesday evenings.
"You guys are in a great part of your lives," Boreanaz said. "Sure it's terrifying but if it wasn't terrifying then there would be an issue."
He said that the fear is apart of the thrill of starting this new chapter after graduation, and that he's been lucky to have all of the opportunities he's had since his own graduation. Reflecting on his career, Boreanaz said he is living his dream.  He also said the Class of 2013 reached out to him at a good time.
"You guys caught me at a good chapter in my life," Boreanaz said.
Not only has he been successful in his career, but also in his personal life. Boreanaz said he is excited to share Ithaca with his wife and children, though excited — and nervous — to speak to the students.
"It'll be more than a homecoming," Boreanaz said. "I'll be able to share it with my wife and my kid[s], and they'll be able to see where I raised hell for four years."
His own enthusiasm to be returning as commencement speaker spread immediately through the Ithaca community via social media. In fact, members of the senior class cabinet found out through social media rather than the traditional channels. Heiss said there is a whole communications plan behind the announcement, but she found out through Twitter, Facebook and excited text messages from friends.
Maeghan Willis, vice president of the senior class, had a similar story of how she found out that Boreanaz had confirmed.
"Usually what happens is when [Institutional Advancement] gets an OK, Tom Rochon finds out, and then they tell the e-board and the five of us are excited, and then we announce it," Willis said. "But this year, since David Boreanaz tweeted it, I found out because one of my friends retweeted it."
Based on the fact that the Class of 2013 is abnormally large for the college, and the level of Boreanaz's celebrity, Heiss thinks the May ceremony will be especially packed this year.
"This is going to probably be one of the largest commencement ceremonies, not only because we're the biggest class to ever be at IC, 'The Biggest Thing to Hit IC,' but I think that there's a lot of excitement around him being here that I feel like a lot of people are going to stay around for commencement," Heiss said.