Bryan Roberts, the former director of the Academic Resource Center at SUNY-Purchase, has recently joined Ithaca College as the new assistant dean for student services in the Roy H. Park School of Communications.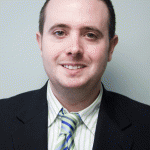 Contributing Writer Francesca Toscano spoke with Roberts about why he wanted to work at the college and what he likes about working at the Park School.
Francesa Toscano: What will your duties be as assistant dean of student services?

Bryan Roberts: My main duty is to help students with their academic advising needs. All students in the Park School have an academic adviser, but there are often pressing questions that they need answered on time-sensitive issues, and I'm just here to help them with that. I'll also be focusing on admissions events and orientation to really help students from the time they get accepted into the college all the way up to graduation. I'm really a resource here for students, and it will be exciting to work with them.
FT: Why did you choose to work at the college?

BR: The first was working with the Park students. The students here are just so passionate and creative that it's exciting to work with them and to be part of their educational process. The second is just the school, faculty and staff. They're nationally known. This, I would argue, is now one of the top 10 communications schools in America, and it's great to be a part of. The third is Ithaca College. The college itself is really in a good place in the market and is a really strong college with a great reputation, and that's exciting to work with.

FT: What has been the best thing about your experience here thus far?
BR: Probably just working with the students. Every student is so creative, so interesting and so engaged in his or her education, which is really nice to see. Occasionally in advising, students can be passive participants.
FT: What do you hope to accomplish during your time here at the college?
BR: In the Park School, what I hope to do is really help students understand their advising requirements, have them have a great advising and working relationship with their faculty and really get the most out of their college education. If you plan well, especially in your freshman year, you can not only know what degree requirements you need but also think about, 'When can I study abroad, when can I do internships, when can I go to L.A. to do the internship program?' So you can really do some interesting things and make the most out of your four years with good advising and good consultation from someone like me, the assistant dean.
Then how I'd like to contribute to the Ithaca campus is I'd like to get involved in as many areas as possible. I have some experience running orientations at previous schools, being involved in the First Year Experience and participating in retention and graduation efforts. If I can help with retention rates, with graduation rates, with helping all Ithaca students become more engaged, then I think I would have been happy about my time here.