When senior Alana Koehler steps out of Ithaca College with her bachelor's degree in exercise science in hand, she will leave for a place she least expected.
"It's sort of ironic," she said. "I applied to a bunch of different places all over the country, and I end up accepting the one that is right where I started, where the whole thing began."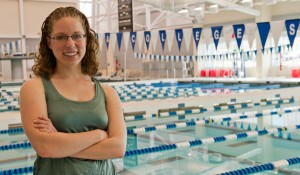 Koehler has accepted a research internship at Strong Memorial Hospital in Rochester, N.Y., where she will work with a doctor on a study. She hopes to work with children who have been diagnosed on the autism spectrum. She will then take her research and present it at the program's symposium at the end of the summer.
But Koehler's connection with the hospital began before she even entered college. As an active competitive swimmer and dancer, she sustained multiple injuries during her junior year at Palmyra-Macedon High School in Palmyra, N.Y., that culminated in a spinal fracture. Koehler said the experience of dealing with her sports-related injuries sparked her interest in exercise science, as she looked at nutrition and exercise options for treatment.
"The whole health and healing process — and sports medicine and the medical side of things — I was just really into," she said. "I think I'm the only person that was kind of excited to go to the hospital and learn about what tests they were going to run and talk to the doctors."
From there, she decided to attend the college because of the exercise science program's flexibility. She also enrolled in the college's Honors Program, where she developed her interest in undergraduate research.
As a freshman, she presented a paper on the perceptions of virginity in ancient Athenian drama at the James J. Whalen Academic Symposium. Tom Swensen, Koehler's academic adviser and chair of the exercise and sport science department, said watching Koehler's composure during her presentation reinforced his confidence in her abilities.
"You're not necessarily picking a baseball team, but when you're in a college and you've got a committee job, and you're choosing teams, in essence, you know who gets it done and who kind of shirks it a little," he said. "I'll take Alana on our team."
Koehler continued with research in multiple departments. She presented a paper on the South African AIDS crisis at the Northeast Regional Honors Conference in Harrisburg, Pa., during her sophomore year. In the same year, she began working with Swensen and his team of graduate students researching the effect of fish oil on delayed muscle soreness, which she presented at the regional conference for the American College of Sports Medicine and again last year at the National Conference on Undergraduate Research.
A self-described "kid at heart," Koehler said she is excited to move on from these research topics to go to Strong Memorial, where she can pursue her greatest passion — working with children. She has worked at a day care center in her hometown of Macedon, N.Y., during the summer and other breaks and said she has been hooked ever since.
"I'm amazed at how they view the world," she said. "I can get really stressed out about things and think that my problems are just the world, and then you go to work and you see these kids, and they're just so happy about simple things. They really help me put things back into perspective. Gosh, I just love them to death."
Between her interest in research and her love for patient care, Koehler has decided to pursue a M.D.-Ph.D Dual Training program, which she hopes to begin in the 2013-14 academic year. She said this program would combine both her passions.
"'Bench to bedside' is what they refer to it as," she said. "So you're seeing patients, and then you're doing research that you can take the results of and directly apply to the kids and see the benefits of it right away."
In addition to her academics, Koehler is a chairperson for the college's chapter of Up 'Til Dawn, chairperson of the Honors Program Advisory Board and was the student representative on the School of Health Sciences and Human Performance Dean Search Committee. Her mother, Kathy, said through it all Koehler has been able to keep herself balanced because of her dedication and grace.
"Alana says she never quits anything in her life," Kathy said. "One step at a time; That's how she's always done anything."
Koehler said she also focuses on the important aspects of life despite her busy schedule.
"I take advantage of things more instead of stressing all the time, enjoying the moment, living in the moment and soaking it all in, because it flashes you by," she said.