When sophomore Lev Saltonstall was a freshman he decided to shave his head. It wasn't a Friday night prank or a bet lost to an upperclassman — he wanted to support his mother.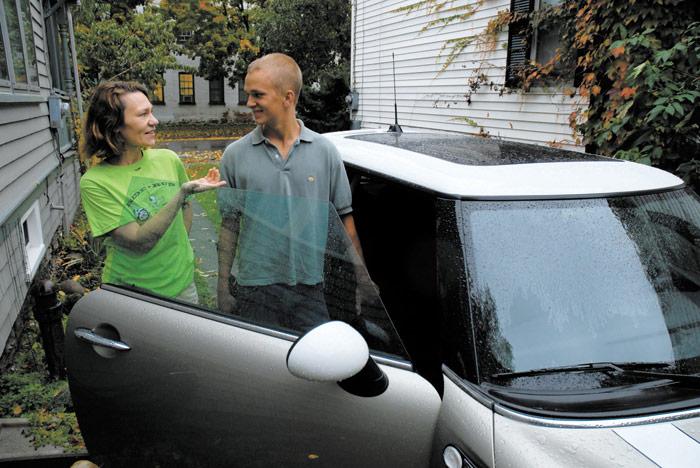 "I didn't look so good," Saltonstall said. "I looked like one of those bad kids."
Saltonstall's mother, Tracie, was diagnosed with breast cancer last year. Knowing his mother would most likely lose her hair in the coming months from the chemotherapy, Saltonstall and his father, Peter, shaved their heads down to the skin in support of Tracie.
"It's not every day that your son and husband will shave their heads for you," Tracie Saltonstall said.
The National Breast Cancer Institute estimates about one in eight women in the United States will develop breast cancer during their lives, up from one in 12 women in 1975. For more than 20 years, October has been recognized as National Breast Cancer Awareness Month in an effort to get more information about the disease and disease prevention to the public.
Shawn Galbreath, executive director for the Cancer Resource Center for the Finger Lakes, said nearly 400 to 450 patients with breast cancer and gynecological cancer visit the center annually. In Tompkins County, about 73 people are diagnosed with breast cancer each year.
"The rate of cancer is going up because more people are getting tested," Galbreath said.
The Cancer Resource Center, formerly the Ithaca Breast Cancer Alliance, is a home for cancer patients to find answers to questions about their treatment and to find resources like wigs and transportation to appointments.
Galbreath said patients often stop by the center or call after receiving painful news. He said the center is a place for supportive counseling and information referral.
"I like to say we replace fear with facts," he said.
Dan Wald, whose mother died of cancer, is the co-chair of Colleges Against Cancer and has worked with the center while in Ithaca.
"They treat you like you're part of the family," Wald said. "You can call them up, and they know your name."
Despite the millions of people affected by breast cancer every year, Saltonstall said the news of his mother's illness still came as a shock.
"One minute I'm laughing, having a good time, next minute I was like, 'ah shoot,'" Saltonstall said. "When you think about it, you never think it's going to happen to someone you know."
After visiting his mother during her treatment, Saltonstall formulated an idea that became the highlight of the 14th annual Cancer Resource Center for the Finger Lakes Walkathon on Oct. 13. The center has sponsored the walkathon every October to fundraise. This year was the first time the walkathon took place at the Cornell Plantations. It was previously held on the Ithaca Commons.
To help the center, Saltonstall raffled a $30,000 Mini S Cooper to the Ithaca community. He sold about 560 tickets for the champagne-colored Cooper for $100 apiece, raising $5,000 for the Cancer Resource Center.
"I have a new respect for people who do fundraising," he said.
Tracie announced the winner of the raffle at the Cancer Resource Center Walkathon at the Cornell Plantations. Anne March, an Ithaca resident, said she was shocked when they called her name as the winner.
"When they called me and told me I won, I couldn't believe it." March said. "It was completely out of the realm of my thinking."
Saltonstall is not the only student who thought of a way to raise money for the Walkathon.
For junior Maggie O'Neill's birthday party this month, breasts made from paper plates decorated the walls, and party-goers sipped on the "Pink Drink," a combination of vodka, fruit and Hawaiian punch. O'Neill, whose mother was diagnosed with breast cancer last August, threw a "Pink Party" to raise money for the Walkathon.
"If I could ask for anything for my birthday, that would have been it," O'Neill said.
O'Neill and her roommates, including one whose mother is also a breast cancer survivor, asked the 100 attendees for donations and raised about $500 for the Cancer Resource Center.
"The Pink Drink was the hit of the night," O'Neill said. "How many parties do you go to that you drink to something important?"
The Pink Party also received some unexpected guests.
Around 1 a.m., the Ithaca Police Department arrived to investigate a noise complaint. While approaching their house on South Geneva Street, the officers noticed a "We support breasts" sign. O'Neill and her roommates spoke with the officers and explained the premise of the party.
"We were all nervous," O'Neill said. "But they told us, 'we support breasts, we support your party, so have a good night.'"
Wald attended the party and sold T-shirts featuring phrases like "Save Second Base."
"[Cancer is] something that is killing our mothers, our sisters [and] our aunts," he said. "It can make people upset, so you need to lighten things up."
Wald is also selling the shirts on campus for $10 each and donates about half of the proceeds to Relay for Life, an annual overnight fundraising event put on by the American Cancer Society.
According to Galbreath, the Ithaca College community donated between a third and a half of the money raised at the Walkathon. She said the center hasn't determined the exact plans for the money raised from the walk.
"We couldn't do it without [Ithaca College]. You really just roll up your sleeves and get at it," Galbreath said.
After what he called a life-changing year, Saltonstall said seeing the smile on Anne March's face when she came to pick up the car Saturday afternoon has made it all worth it.
"Seeing that woman today, laughing — it really sums it up," Saltonstall said. "The smile on that woman's face was the perfect ending."