With Election Day only five days away, the fate of candidates running for state and federal public office will soon be in the hands of voters.
Millions of New Yorkers will head to the polls to vote for the governor's race and two U.S. Senate seats Nov. 2. Locally, residents of the Ithaca area will have the opportunity to vote on candidates for the U.S. House of Representatives and the New York State Senate and Assembly.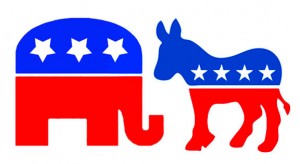 The New York gubernatorial race has become one of the most talked about races in the country since Carl Paladino won the Sept. 14 primary against state Republican Party favorite Rick Lazio. Paladino, who has been backed by several tea party movement groups, faces Attorney General and Democrat Andrew Cuomo.
Sen. Chuck Schumer, who was first elected to the U.S. Senate in 1998, is seeking reelection to his third term. Republican Jay Townsend, a small business owner, is hoping to tap into anti-incumbent sentiment to unseat Schumer.
Democratic Sen. Kirsten Gillibrand, who was appointed to the U.S. Senate in 2009 by Gov. David Paterson when then-Senator Hillary Clinton assumed the office of Secretary of State, now seeks to be elected for the two remaining years of Clinton's term. Republican, certified public accountant and former Rep. Joseph DioGuardi hopes to unseat the junior senator. Whoever is victorious will face election to their own six-year term in 2012.
Rep. Maurice Hinchey, D-Hurley, is hoping that residents of New York's 22nd Congressional District — which includes Ithaca — will reelect him to his 10th two-year term. Hinchey will face Binghamton-area educator George Phillips, who is running on a conservative Republican platform.
With the New York State Senate in a virtual gridlock with the Democratic advantage of 32 seats to the Republican's 30, the race for the 53rd State Senate seat has become one of the most hotly contested state races.
The 53rd State Senate District includes all of Chemung, Schuyler, Steuben and Yates counties, in addition to the western portions of Tompkins County, including all of the City of Ithaca.
Incumbent George Winner, R-Elmira, announced in June that he would not seek reelection, allowing Democrat and Tompkins County legislator Pam Mackesey and Republican Assemblyman of the 137th District Tom O'Mara to compete for the vacant seat.
Representing the 125th New York State Assembly District, Barbara Lifton, D-Ithaca, is seeking reelection to her fifth term. Lifton faces Republican Tom Reynolds, a former Ithaca College employee.
The following lists explain the New York candidates' positions on topical issues surrounding the campaigns.
ANDREW CUOMO
Education reform
Cuomo has called for the reduction of funding to school districts across the state to save money.
Ethics reform
To prosecute politicians who break the law, Cuomo would establish an independent ethics commission.
Tax reform
Cuomo proposes a statewide local property tax cap that would be set at 2 percent or the rate of inflation, whichever is lower.
CARL PALADINO
Education reform
Paladino said he would like to see an increase in tuition in the SUNY system for out-of-state residents.
Ethics reform
Paladino proposed hiring a special investigator to undertake ethical probes.
Tax reform
To lower individual's tax burdens, Paladino plans to cut funding from different state programs, including Medicaid.
For Senate, House and State Assembly, check this week's issue of The Ithacan.