Dwindling resources for food stamp programs have left Tompkins County residents hungry, filling pantry dining rooms and struggling to put food on the table.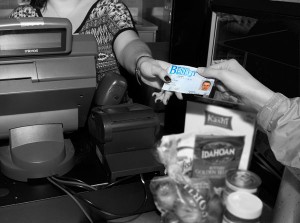 According to the New York State Office of Temporary and Disability Assistance, 8,762 county residents have collected food stamps in 2011, compared to 8,103 in 2010 and 6,766 in 2009.
The trend isn't limited to Tompkins County. Mark Dunlae, executive director of Hunger Action Network of New York, said the Supplemental Nutrition Assistance Program already struggles to meet the hunger needs of New Yorkers. A proposed 2012 reauthorization of the Farm Bill, which funds food assistance and rural development, threatens to cut programs by $23 billion.
The SNAP program provides financially eligible shoppers with a supplemental EBT card to offset the cost of groceries.
Patricia Carey, commissioner of Tompkins County Department of Social Services, said the bill might change who is eligible for food stamps or decrease the amount of benefits some SNAP recipients collect each month.
Senator Kristen Gillibrand, D-N.Y., released a statement advocating for an increase in SNAP benefits and food pantry relief.
"Hunger and food insecurity in New York have reached disturbing, historic highs, and food bank shelves have gone bare," she said. "We must take immediate action to make sure we're helping New York children and families during these difficult times."
College students are among the record number of New York state's impoverished, and are increasingly turning to food assistance programs.
John Ward, director of homeless services at the Tompkins County Red Cross, said he attributes the rise in food stamp usage to the growing county poverty rate, which currently rests at 19 percent. Half of the county's population below the poverty line is between 18 and 20 years old — a figure that Monika Roth, agriculture issues leader at the Cornell Cooperative Extension, said is skewed by local students.
"If you look at poverty data, students fall into that group of people with low incomes because you're counted in the census when you're living here," she said. "So it looks like we have a high number of people in the age group from 18 to 24, but three-fourths of that age group are students."
Students are eligible for food stamps if they are  residents of New York and meet the financial requirements. This means students must prove their financial independence and be eligible for federal work study or work at least 20 hours each week.
While Carey said there is no way to keep a record of how many students apply for or receive food stamps, Tompkins County DSS has seen a 66-percent increase in the number of county residents between 18 and 25 years old receiving food stamps over the past five years.
Emily*, a senior at the college, qualified for SNAP's expedited services in the spring and is in the process of applying for regular monthly benefits. At the time, Emily was accepted for emergency relief, she was living off ramen noodles.
Because her family is no longer able to offer financial support, Emily said she needs to pay the cost of attendance at the college not covered by loans or financial aid each semester.
"There are times here and there that I won't have any money for a week or up to two weeks and am living on like $5," she said.
Emily said she also used the college's chaplain emergency relief fund, which acts as a resource for members of the college community facing financial burdens.
Jewish chaplain Michael Faber said the fund was created about 20 years ago and also supplies gift cards to local grocery stores.
"I would say about a dozen times a year we'll get wind of a student, or a student will actually come in and say 'This is my situation: it's either the rent or food for this coming month,'" Faber said.
Ward said underemployment is a problem in Tompkins County, where many residents rely on a part-time or minimum-wage job. This problem hits financially independent students particularly hard because they must support themselves in addition to coursework.
Jason Barrera '11 received food stamps while attending the college and living off campus. Even though he worked a series of jobs, Barrera still couldn't afford groceries and to pay for his bills.
After being eligible for food stamps, Barrera said he was able to put some money aside for savings.
"It's not just about the groceries," Barrera said. "I was working hard — full time, sometimes more than full time — every week for years on end and wasn't keeping any of that money."
Barrera said after he received food stamps, he was able to save up for a spring break vacation.
A Cornell Cooperative Extension community-wide food assessment is focusing on low-income and older residents. She said food security might be an issue for students not because of underemployment, but because of poor money management.
"The reality for students is that maybe if you don't have money for food, you're spending money elsewhere," Roth said.
Carey said money management does not impact SNAP eligibility.
"We don't ask questions like 'Could you manage your money better?'" Carey said. "What we're looking at is any household that meets the income criteria and are employed, regardless of whether or not they're a student."
Laura*, a senior at the college who considered applying for food stamps but was not eligible, said many people assume students can afford food because they can afford to pay for college.
"If you ask people downtown or something, they think that students should never be on food stamps because we have potential — though we may not be wealthy now —we have the potential to be because we're educated," Laura said.
Christina Culver, executive director of Loaves and Fishes food pantry, said the increase of residents receiving food stamps has also increased the number of people she sees lining up for free daily meals. For the first time in the food pantry's 28-year history, the number of individuals attending some meals has exceeded 200.
Culver said many of the newer faces at the food pantry likely relied on a primary caregiver who is no longer able to provide financial support.
"Because everything is so much more expensive, maybe people they relied on for support are suffering or without a job," Culver said. "A relative or a close friend might have been supporting them enough to prevent them from coming to Loaves and Fishes as often or at all."
It is the same issue facing college students who suddenly find themselves financially independent. Turning to food assistance programs becomes a last resort.
Emily is still in the process of gathering the materials she needs to apply for SNAP benefits, but hopes to have finished the application by the end of the month. Until then, she is scrounging together what she can, working two jobs.
"Nobody else was going to help," she said. "I either had to do it or that's it."
*Some names have been changed to protect students' anonymity.