Three student groups have been chosen as the first-place winners of Ithaca College's first Business Idea Competition, sponsored by the School of Business, in the categories of web service, product and software.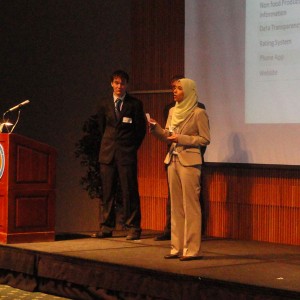 The Business Idea Competition is an event created to foster student learning outside the classroom by coming up with business proposals, with the added bonus of a financial incentive.
Juniors Justin Lee and Michael Wehrhahn won for web service with RevoPT, a website that allows physical therapists to record personalized rehabilitation videos.
Sophomore Shanshan Mei won the product category with Screen Cleaner, a portable screen cleaner for mobile electronics that is meant to be functional and fashionable.
Senior Adiba Afros and sophomores Martin Cerny, Adeesha Ekanayake and Morgan Lemke won the software category with traceIT, a mobile phone app that allows users to scan a barcode on their phone to see if the product was produced in a socially ethical way, or if it contains ingredients that pose a health risk to the individual.
Each of the winning teams received a $5,000 prize, and will be provided with up to an additional $5,000 if they decide to follow through with their business ventures. The other nine finalists will also receive a cash prize of lesser values based on their place won in each category.
The contest was launched after Christopher Burch '76, who began a successful start-up business by selling sweaters as a student during his time at the college, and Mary Ellen Zuckerman, dean of the School of Business, discussed ways they could provide more hands-on experiences for students.
The competition was announced in October, which gave students about a month to develop their business ideas. Burch, who provided the $85,000 funds necessary for the competition, served as one of the three judges for the showcase which was held Nov. 10 in Emerson Suites.
Brad Treat, CEO of mobile phone projection company Mezmeriz Inc., helped lead workshops for the 24 original teams, where mentors met with them weekly to help develop their ideas. The competition, he said, is a great experience because it prepares the students for the entrepreneurial world.
"This competition is basically a vehicle to give people who are interested in business an opportunity to experience what's really a real-world situation — talking to investors, talking to potential customers — and it's all around their ideas, so it's really practical," Treat said.
The contest taught the participants essential values they would need to succeed in the business world, he said.
"In the work environment there's a whole lot less structure," Treat said. "So this prepares them for that."
Zuckerman said the business competition also correlates with the out-of-classroom learning aspect of the college's IC 20/20 plan.
"This fits right in with IC 20/20 because at the heart of IC 20/20 is that interdisciplinary integration so that every school on campus can think across those disciplinary boundaries," she said.
Zuckerman also said she wants to expand the competition overseas to international students so participants have a greater opportunity to reach global markets.
"My dream is to make it more international and to match some of our students up with students overseas, maybe in China," she said.
Lemke said the competition gave his group an opportunity to learn about software and financing. He and his partners worked closely with computer science professors to develop traceIT, the winning pitch in the software category. Lemke said the group was shocked to hear the competition results.
"There were two other ideas in our section that were pretty good so we were all a bit surprised," he said. "We kind of almost fell over each other when we went on stage."
Senior Jake Tenenbaum, a business student who helped organize the event, said the response to the competition was so positive that Burch is moving toward making it greater and more comprehensive in the future.
"We want the students to go out there and start their businesses," he said. "We want them to know that they can do it."
Staff Writer Kristen Mansfield and News Editors Elma Gonzalez and Erica Palumbo contributed to this report.