In honor of the 40th anniversary of Earth Day today, Ithaca College students have been celebrating through weeklong events including speakers and a new opportunity to study social change.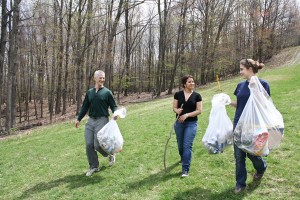 This week, students from the Ithaca College Environmental Society, Dining Services, Organic Growers of IC and the Residence Hall Association hosted events to discuss the human impact on the earth, senior Emma Hileman, a member of ICES, said.
Marian Brown, special assistant to the provost, said this particular Earth Week is important not only to celebrate the 40th anniversary, but also to work on the continuous process of becoming sustainable and knowledgeable of the natural resources that are abundant in everyday life.
"When things are starting to come into full bloom it's important to have a heightened awareness of getting outside and being one with nature," Brown said.
Brown said this Earth Day also marks the start of the new mini-course, Media for Social Change, that is open to all students in the Park School of Communications. The course starts today with presentations by global activist Lynne Twist and environmentalist author Paul Hawken.
Brown said the minicourse will look at how students can participate in sustainability and talk with media leaders about problems and solutions in the environment.
"It is a completely new endeavor that is going to take the Park School into a whole new arena of working and studying the potential opportunities for the media to be an agent for change," she said.  "Having students in an intensive, immersive experience is going to be a powerful opportunity for us."
Clarke and Hood Halls were profiled in the New York Times last weekend for being labeled Energy Star, the federal government's approval for being energy-efficient. Brown said the college is ahead of other institutions with regards to sustainability, but she sees it as a continuous process that may never end. She said the college should never become complacent about where it stands in comparison to other institutions.
"It is something we should always be getting better and smarter about how we use our resources, whether those are financial, human or natural resources," she said. "It's an ongoing decision-making process that we need to get better about doing."
Hileman said the need to live sustainable lifestyles is especially important today.
"It's important because we are in kind of a global crisis, and it is solvable if everybody tries and if everybody alters his or her lifestyle to accommodate the natural world," she said.
Senior Andrew Grossmann, vice president of ICES, said the main focus of many of the events is to bring the community together.
"It is about spreading awareness about environmental issues, advocacy and getting people together to build a community and then talk about issues that involve the health of the earth," he said.
On Monday ICES hosted the Twelve Tribes, owners of the Maté Factor on The Commons, who discussed their views on the impact of religion on the environment, Hileman said.
On Tuesday, there was an omnivore's teach-in hosted by ICES, which presented healthier ways to eat meat and be vegetarian.
"We'd like people to learn about eating locally and organically," Hileman said. "It's really important to learn how to eat more sustainably."
Yesterday, there was showing of "Crude," a film about a lawsuit against Chevron-Texaco in Ecuador.
Tomorrow there will be a dedication ceremony for the new South Hill Natural Area Kiosk at the south campus entrance at noon.
Sophomore Siobhan Cavanagh, executive board member of ICES, said it's significant to have the celebrations to look at the positive side of what students are already doing to help the environment.
"It is important to celebrate Earth Day to put a different spin on thinking about the environment," she said. "Instead of focusing on what is going on, it's nice to just celebrate what is good about the environment and what good things people are doing."
Junior Stephanie Piech said the dining hall  interns have been hosting themed events each day in the dining halls this week. The themes include "weigh the weight," which focuses on composting, "energy wheel of fortune," "rate your plate," focusing on nutrition, and "sustainable food," where hydroponic farmers will be talking about sustainability.
"Each year we try to do something holistic, but we try to keep it really new," she said. "The dining hall is a place where every kind of student comes, and I think it's important that all students get a chance to understand what's going on."
Brown said she hopes that the week has caught the attention of students who haven't yet become interested in sustainability. She said with the broad range of activities and venues, more students should be reached.
"Hopefully one of the events will hit someone who hasn't awakened yet to this awareness," she said "If that happens for a few people on this campus who haven't realized before, I'll feel like we had a big win."