Two local nursing homes are looking to improve their services after a recent federal quality review gave them one out of five stars — the lowest possible rating from the U.S. Department of Health and Human Services.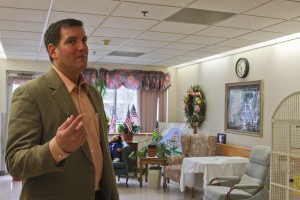 The two facilities, Beechtree Care  Center and Cayuga Ridge Extended Care, account for roughly 61.5 percent of the nursing home beds in Tompkins County.
The survey, completed by the U.S. Department of Health and Human Services, rates nursing homes on health and safety measures, like preventing the spread of infection, as well as the residents' quality of life.
Beechtree CEO Patrick Weir said he was disappointed by the results but said it is motivating his staff to strive for a better rating next time.
"We need to be meeting [the residents'] needs," he said. "We want to be a leader in nursing homes."
Cayuga Ridge Administrator Pat Deptula said the star system oversimplifies the complex information the health department is trying to portray.
"The system needs to be refined and needs to better reflect the public's understanding," he said. "The problem is it's giving us more questions than answers right now."
Deptula has already spoken with state health officials about setting up an open forum with them to change the star rating system and present information more clearly.
Beechtree scored lower than the national average in daily activity assistance and percentage of long-term residents in moderate-to-severe pain. Similarly, Cayuga Ridge scored lower than the national average for residents with "pressure sores" and residents losing too much weight.
Both Beechtree and Cayuga Ridge got slightly better nursing staff ratings, receiving three and two stars respectively, and in other categories they scored similarly or better than national and state averages.
About 20 percent of long-term care facilities in the country, and about 38 percent of facilities in the Finger Lakes and Southern Tier received the same rating as Beechtree and Cayuga Ridge.
John Krout, gerontology professor and director of the Gerontology Institute at Ithaca College, said these statistics are indicative of the current state of nursing care.
"Nursing homes, by the nature of how we do long-term care in this country, can be very depressing places," he said. "[This study] may be a commentary on the entire industry."
Krout said the college has a close relationship with many area homes at which students have done internships and work study programs — programs that if students took advantage of, he said could help Beechtree and Cayuga Ridge do better on next year's report.
Senior Cecilia Deterville spends about 20 hours a week teaching a physical therapy class at Beechtree.
"I never received any bad vibe from Beechtree at all," Deterville said. "The staff there really cares about the people they care for."
Both homes are working to secure better finances and are implementing new programs such as new physical therapy classes at Beechtree and an adult day care division at Cayuga Ridge to help improve quality of life and score higher on next year's survey.
"We're working every day to try and find ways to make the residents' stay better here," Weir said.