Tucked away on the outskirts of Ithaca on a field surrounded by the stunning view of central New York's rolling hills and valleys, a group of best friends convenes twice a week, driving one another into the ground with bone-crushing tackles, lifting one another into the air and throwing, punting and sprinting with an oblong ball.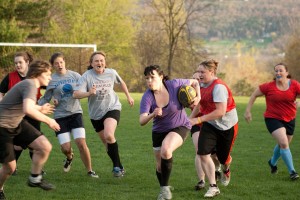 The Ithaca Avengers women's club rugby team is never short on laughter, having just celebrated its first full year of existence as one of New York state's biggest and best club teams.
Despite bruised limbs and taped up elbows and knees, this group of ruggers is more than just a premier women's club squad. It is a family that stretches far beyond pummeling one another on the pitch.
"There could be a study done on rugby," captain Adrienne Wilson said. "It's crazy how you join this group of women and because you're all going through something new and different and pretty hard that you just bond over that."
The team's unofficial slogan — "Make friends, then tackle them" — is the perfect example of the Avengers' priorities. The club, led by Head Coach Annemarie Farrell, assistant professor of sport management and media at Ithaca College, provides an opportunity for adult women — ranging from recent Cornell University graduates to those in their 40s — to make friends, play a contact sport and engage in a competitive activity.
"We market our team a little bit differently than what most women's teams do," Farrell said. "We marketed it around that adults don't know how to make friends, which is totally true."
Part of the appeal of playing for the Avengers is the team's determination to make everything lighthearted and fun, organized and all-inclusive. The Avengers' recruiting slogan, "Looking for vaguely athletic people of slightly questionable character," makes potential recruits aware of how anyone interested can play rugby and enjoy the sport.
"We've created an environment where everybody plays," Farrell said. "It's impossible to ride the bench with us because everyone has equal playing time. We have all-star players on the sidelines while rookies are playing."
Having a varied group of players and making sure everyone gets equal minutes on the field has not hindered the Avengers' success. On Saturday at the Binghamton Scrumstock Tournament, the Avengers showed how they can succeed.
Clad in light blue, collared rugby shirts and black shorts, the team fought its way through a day of scrums, rucks and line outs to a 3–2 record on the day. Even before posting a winning record, the Avengers were clearly the team having the most fun right from the start. From opening chants for a game that went on too long to skip the overtime kicking competition and go straight to a dance-off, to cheering one another on with nicknames including Beef, Waack and Sparky, the team laughed its way through brutal hits, nonstop running and a pile of victories.
"We're not ultracompetitive," Farrell said. "We do well. We rolled over three good college teams that we shouldn't necessarily be beating because they're fitter and practice a lot more than us."
Overall this season, the team is 4–2 as it picked up a 75–17 win over North Buffalo on April 17. The Avengers' next match is their home opener at 11:30 a.m. Saturday against Cornell A&B.
Because the team stresses community above all else — even winning — the members are constantly getting together away from the sport for other activities.
"We go out to eat after practices and have social events," scrumhalf Amanda Kempf said. "[The new players] always say, 'I'd literally be sitting home by myself if it wasn't for this team.' You can just come in, and it's an instant family."
The family atmosphere even goes beyond the Avengers. The team makes sure to include the opposition in social events after each game.
"There's a whole tradition of after the game, you and the other team get together for a party," Wilson said. "We just crushed one another on the field, so now we'll go off and party together. Even between opposing teams there's such a strong connection."
But sometimes, families need to come together in tragic times as well. The Avengers were put to the test when tragedy struck the team in January.
Ariel Lawson, a member of the team, was killed when driving to work when her car skid over an ice patch. The events were devastating to the team, especially given how important Lawson was to the Avengers. She was the recipient of the team's Heart and Soul Award in its first year and is never far from the minds of the Avengers.
"It was a really defining moment," Farrell said. "We all went to the memorial service. We all sat together and went back to our fullback's house afterward for dinner and celebrated her."
The team still makes sure to commemorate her in its own way. Lawson had a rugby ball in her car when she was in the accident, which Farrell still holds on to in her office. The athletes never practice with it, and they bring it with them to all their activities and recruitment events.
Through tragedy and triumph, the Avengers are as strong as ever and will continue to remain that way. Whether they're winning tournaments or learning new skills at practice, remaining a family is the first priority.
"We're not really focused on winning," Kempf said. "The beer still tastes the same afterwards."