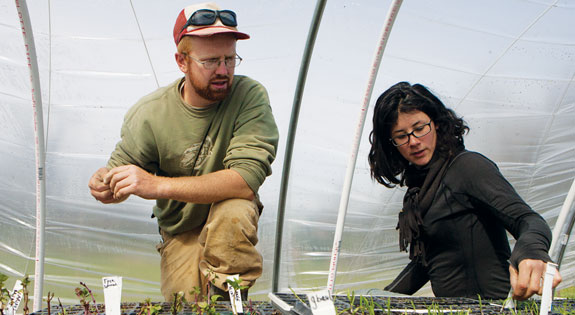 Twenty minutes outside Ithaca, there is a dirt road that no GPS can find. Down that dirt road is a little farm where two Ithaca College alumni can be found munching on bok choy while their dog Lena runs across rows of leafy greens.
Plowbreak Farm is in its infancy, but Kara Cusolito '08 and Aaron Munzer '08 are determined to make the best of their Community Supported Agriculture farm — even if that means using Munzer's pick-up truck instead of a tractor to make rows in the field for now.
Plowbreak works off of the CSA model, in which community members pay up front for a share of the produce harvested throughout the season. Once harvesting begins, members get a weekly stock of produce.
The five-acre field rented by Cusolito and Munzer is only one-quarter plowed but is already seeing some seedlings sprout. The couple moved to Plowbreak in November after maintaining a farm in Dryden, N.Y., for two years.
"We rent this field from the folks who own the property," Munzer said. "They said 'Well we want a vegetable farm, or some sort of farm on the property, we want it to be used productively.' And we said, 'Well that's awesome because we happen to have no land and want to farm.'"
The dirt road divides the property, with the owner's home and barn on one side and the field on the other. In the back sits a pond, home to a few ducks that have joined their 15 egg-producing chickens.
Having worked on different farming projects,  Cusolito and Munzer were excited by the opportunity to take the empty field and turn it into a vegetable farm. Last year was mostly a trial run, without much profit, but this year Plowbreak plans to have 30 CSA shares and 60 members. This is an increase from the previous year's eight shares.
"What I like about the CSA model is that you don't have to harvest a bunch, guess how much you have to harvest, take it to market, hope you sell it and then if you don't you're out of luck," Cusolito said. "Instead, all of the produce that you're picking is spoken for, and you don't have to worry about selling it every week."
Freshman year, Munzer decided to offer a pretty girl at the bus stop outside Collegetown Bagels a bite of his veggie cream cheese bagel. They didn't begin dating until after their time at the college, but were close throughout school.
On the farm, the couple works like a well-oiled machine, moving from uncovering rows of raab down to where the leafy greens grow. In their hoop house, a small version of a greenhouse, Cusolito and Munzer have begun to harvest their first vegetables of the season.
While Plowbreak is not USDA-certified organic, Munzer said they do grow organically.
"Organic in everything but name," Munzer said. "We're going to be certified 'naturally grown' pretty soon — that's an alternative certification program."
Because the farm is in its first full year of production and growing organically can be a bit more laborious, Munzer said, the long work week can take its toll. Rather than the traditional 40-hours-per-week job, Plowbreak takes about 80 hours or more. Munzer calls it a "never-ending" job.
"Everything is harder than it appears at first," Munzer said with a laugh as he and Cusolito debated how best to untangle the chicken fencing.
While unraveling the chicken fencing, one of the less glamorous aspects of farm work, Munzer and Cusolito discussed their transition from journalism, which they both studied at the college, to farming.
Cusolito covered several environmental topics as a reporter during her time at the college, finding her niche in food systems and agriculture. They both worked on the editorial board of The Ithacan in the news section.
The World Wide Opportunities on Organic Farms is an exchange program that brings volunteers to organic farms across the globe. In return for their work, the host farms provide volunteers with food and accommodation.
Cusolito spent six months in Australia, and Munzer in Hawaii, as a part of the WWOOF program. When they came back from their farming excursions, they worked together at a farm on Cape Cod, Mass., before moving back to Ithaca to develop the farm in Dryden. Days spent digging in the dirt are far removed from time spent in front of a computer while working on a story.
"I actually do miss writing, I sort of got away from it for a while, but now I want to get back into it," Cusolito said. "I'd like to use my degree every once in a while."
Munzer hasn't completely walked away from his journalism degree, as he writes for the Ithaca Journal and the Cornell Chronicle. Cusolito and Munzer hold other jobs as well, mostly relating to food production — Munzer at the Ithaca Farmers Market and Cusolito at the Ithaca Children's
Garden, a position she began last week. Yet,
Munzer prefers farm work.
"It's better to work for yourself and lose money than make a little bit of money and work for someone else," Munzer said.
The two are never truly alone in their farm work, however. Friends often come out to the farm to show their support — and to enjoy the food. In fact, one of their first CSA members for the 2012 growing season is a former classmate. Nicole Stumpf '08, an Ithaca resident, said she switched from one CSA to Plowbreak because of her friendship and faith in Cusolito and Munzer.
"They're new, and they're just not as known yet in the community," she said. "It takes a little bit of time for people to trust and believe in a business. I know them firsthand, and I absolutely believe they're going to provide me with the best vegetables possible."
Stumpf hasn't had a chance to visit Plowbreak yet, but she looks forward to the potluck dinners, work days and volleyball parties Cusolito and Munzer are known to hold.
Plowbreak is still relatively small in comparison to other CSA farms in the Ithaca area.
"The next step is just growing the veggie CSA," Munzer said. "We're going to buy a tractor, might do more chickens next year. Just keeping up an acre and a half of vegetables is going to be a lot."
CSA shares are still available at Plowbreak farm. For more information, visit plowbreakfarm.com.