The sustainability committee of the Ithaca Farmer's Market is proposing a three year, three-step time line to phase out the use of single-use plastic bags.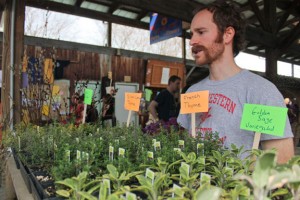 The goal is to replace the "T-shirt" bag, which is the most common plastic bag used by vendors and customers.
The first phase of the plan will start June 1, where the only new plastic bags available for customers at the market will be Bio Bag compostable bags. The bags are made in the United States from a resin consisting of starches, glycerin and other corn, canola or sunflower-derived substances. They are petroleum free, break down into carbon dioxide, water and organic matter, and will compost in a commercial facility in two to seven weeks.
The next phase will place dispensers at the farmer's market in 2012 that will be dual-purpose, for Bio Bags and also for reusable cloth bags at all the information stations. The final design has not been decided but it may be a coin-operated device.
The last phase, effective June 1, 2013 will no longer allow any plastic bags, and customers will have to bring their own reusable bags.