After the U.S. government seized 82 Web addresses Nov. 29, college students may find it increasingly difficult to access and download media on bit torrent downloading and other websites.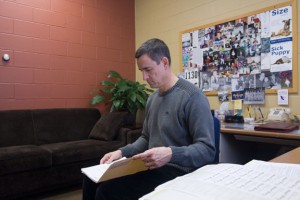 Eighty-two Web addresses were seized by Immigration and Customs Enforcement, a division of the Department of Homeland Security, for distributing and selling copyrighted works.
The latest takedowns are a part of Operation In Our Sites, an ongoing initiative by the Department of Homeland Security.
According to the Pew Research Center's Internet and American Project, college students use the Internet to download media more than any other age group, making them the most likely demographic to have used the targeted sites. According to the poll, 58 percent of 18- to 22-year-olds download music, compared to 46 percent of 33- to 44-year-old adults and 22 percent of 46- to 64-year-olds.
Pat Reilly, a spokesperson for ICE, said sites were seized to disrupt the commerce of counterfeiters and educate the public about Internet criminal activity.
"It hurts our economy, it costs us American jobs and it's a threat to public health and safety," Reilly said. "It also discourages the kind of ingenuity that college students appreciate by wanting to download this information or enjoy it. There will be less of it if the people who create these things cannot make a profit from it."
The Motion Picture Association of America started to send letters to colleges and universities this week, encouraging them to restrict copyright infringement. The MPAA also said it will begin to notify colleges directly if it detects illegal file sharing of movies or TV shows on their campuses.
The Office of the President said the college had not been contacted by the MPAA as of yesterday.
Ithaca College also once prosecuted students for copyright infringement and had one of the most restrictive policies among schools served by Apogee, the college's private Internet provider. In 2007 and 2008, about 20 students received letters from the Recording Industry Association of America attorneys notifying them of copyright infringement and asking for $3,000 each in settlement fees.
Since Apogee acts as a private Internet provider, Mike Leary, assistant director of judicial affairs, said the college decided to stop monitoring file-sharing and illegal downloading on campus.
"We decided that if the RIAA notifies Apogee, is it really our role to have to get this information from Apogee and present it to our
students?" Leary said.
Apogee continues to send copyright infringement notices to students, in accordance with the Digital Millennium Copyright Act.
Ithaca College freshman Glen Graham used Limewire and bit torrent programs to download 35 to 45 gigabytes of music and a few movies from file-sharing sites. Though he thinks artists should be paid for their work, Graham said he illegally downloads to save money.
"In all honesty, I was downloading things off Limewire because I realized that I was not the only one doing this on campus," he said. "Everybody downloads music off of Limewire and uses some kind of file-sharing application to get their music. Sure, I can download off of iTunes, … but I was just saving money."
Sophomore Dylan Henderson said he downloads music for free from websites like RapidShare, MediaFire, and Megaupload.
"I know musicians have to make a living somehow, but today it's so easy to find it free," Henderson said. "There comes a point where musicians have to realize that everything they do can be found for free on the Internet."
The takedown notices come on the heels of a new bill circulating through Congress. If approved by President Barack Obama, the Combating Online Infringements and Counterfeits Act will give the Department of Justice the tools to crack down on sites that distribute counterfeit items regularly.
Tracy Mitrano, director of Information Technology Policy and Law Programs at Cornell University, said it is not surprising that the justice department is cracking down on counterfeit Internet material based on their treatment of sites like Napster.
"The extremes dominate the debate," Mitrano said. "[There are the] people who think just everything could and should be free … and
content owners, on the other extreme, who want to take every technological, legal market to control everything."
Corynne McSherry, senior staff attorney at Electronic Frontier Foundation, a non-profit organization dedicated to protecting and promoting digital rights, said there are several risks with the new COICA bill.
"The people — the so-called dedicated 'pirates' — will have no problem avoiding this kind of enforcement," McSherry said. "They will move to other domain names, they will use encryption, they will take advantage of any number of technological fixes. Our big concern is that along the way, sites that actually are trying to help artists get paid could get swept up."